If you need to scan something on your iOS Device, or an iOS PDF Scanner feature, you will be thrilled to hear Apple has made this feature available on iOS 11.
A look at Apple's native iOS PDF scanner
Apple's version of document scanning comes out after third party scanning apps (or iOS PDF Scanners) have been popular and well loved by Apple users on the App Store for many years. These document scanner apps have helped users increase productivity and save precious time by being able to scan documents directly on an iPhone or iPad without using an actual scanner.
Need to scan documents using your smart phone? Read here how you can use scanner apps without a scanner here
How does Apple's native scanning feature work as an iOS PDF Scanner? Does it have the features we need, such as exporting to PDF and OCR and the likes? Read on to see how it works and to find out our verdict on Apple's brand new feature and iOS PDF Scanner.
New document scanner comes with iOS 11
Apple's iOS 11 update finds a new document scanner feature, that is proving to be one of the most useful. For any documents that you want to scan, such as receipts, contracts, or even books, this new nifty feature is easy to use and hella useful. If you have been a long time user of scanning apps such as PDF Scanner you can also try out Apple's own offering to see which one works better for you.
If you were wondering why you have not noticed the iOS PDF Scanner feature, this is because there isn't a separate app for this in the new iOS release. Neither is it found in your camera app to use to scan the document.
To locate Apple's iOS PDF Scanner feature, you need to go to the Notes app. Once you are in there, tap on the plus "+" icon just above the keyboard and you can select on "Scan Document" from one of the menu options.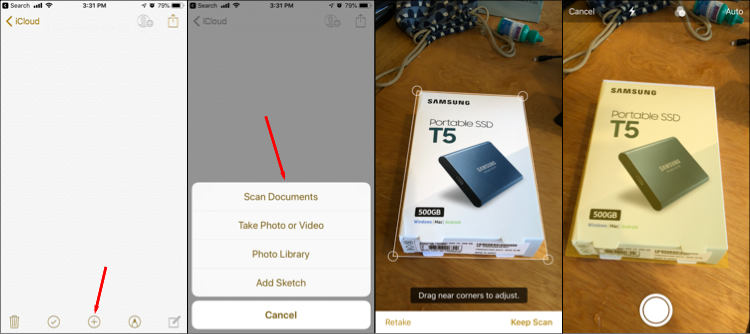 How to use it
When you point your camera at a document, the camera will recognize the paper or document and try to perform a sequence of events. First the iOS PDF Scanner feature will detect its corners, next it will capture the image automatically, and lastly try to create a scanned image from it.

If you have to snap a picture from an angle, Notes all will try to straighten it out for you. Therefore, you don't always have to line the document up perfectly with your phone camera. I have taken tons of images at an angle and Apple does a great job to resize and reshape it into a good looking regular documents.
Does Apple's iOS PDF Scanner feature help me to completely ditch all other scanning apps yet? Not quite actually, due to its lack of some very important features that we need, that is found in a good document scanner app. In the next section we will give you our verdict of Apple's iOS PDF Scanner feature.
Our verdict: How does it fare?
One thing we noticed right off the bat about Apple's iOS PDF Scanner, was its lacking in several important features that we need. We will make it clear right here. Apple scanning feature DOES NOT SUPPORT import features like exporting to PDF and OCR!
The Bad:
No support for important features such as 1. Exporting to PDF and 2. OCR (Optical Character Recognition)!
The Good:
Image recognition is fast and snappy. Scanned image quality is very commendable too. Overall good effort from Apple's iOS PDF Scanner.
But.. What if I need exporting to PDF and OCR?
If you need to export your scan to PDF or use OCR to convert your scan to text, then you will need a separate document scanner app for this.
Solution: Use a third-party document scanner app to export to PDF and for OCR.
PDF Scanner Pro is one of the top document scanner apps on the app store. It supports converting scanned images into exportable PDF files that you can share via email or to contact on your phone. PDF Scanner Pro also supports advanced OCR (Optical Character Recognition) features to help converting scanned images into text.
PDF Scanner Pro is the easiest way to scan documents. Just hover your camera over the document you want to scan and PDF Scanner Pro will automatically detect the image and create a digital clone or copy of it in the app. Email the PDF file to yourself or anyone you want.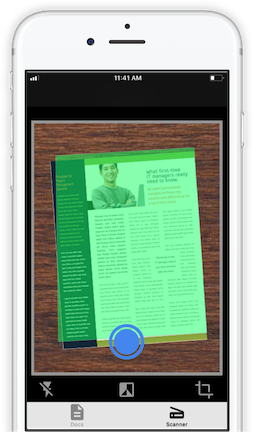 PDF Scanner Pro is the top rated scanner app on the iOS App Store, with over 1 Million+ Downloads, 4.5 Stars and 1,200++ Ratings on the iOS App Store as of October 2018.
If you are still wondering how to scan a document and use OCR features from your smart phone, then you should check out PDF Scanner Pro by Appsverse.