How to scan with iPhone camera today, and how has technology evolved?
Convergence of software and camera hardware make new and increasing possibilities on mobile phones everyday. For example, new AR (Augmented Reality) technology combined with iPhone camera hardware make it possible to measure distances and lengths using your camera.
For office and productivity, developers have also build interesting and useful software that leverage iPhone camera. Scanner apps in particular, has really helped to replace some scanning imaging devices such as copiers and flatbed scanners used in office and homes.
Copiers and flatbed scanners are expensive, pricey and do not necessarily produce the same results. In our comprehensive test, scanning with iPhone camera worked far better than scanning using a copier.
3 ways to how to scan with iPhone camera
Need to know how to scan with iPhone camera? Here are 3 ways you can use iPhone camera to scan paper documents or scan receipts, letters and bills.
Method 1 - Use iOS built in scanning feature
Apple has recently released its a native scanning feature to scan documents and files in the latest iOS 12. If you have not updated your iPhone to latest iOS 12, you may want to do so to enjoy this new feature. If you already have iOS 12, the new scanning feature is quite hard to locate, and it is 'hidden' inside the Notes app.
To use it, launch the Notes app. In the Notes app, you need to hit the plus icon located above the keyboard, then launch 'Scan Document' from one of the menu items.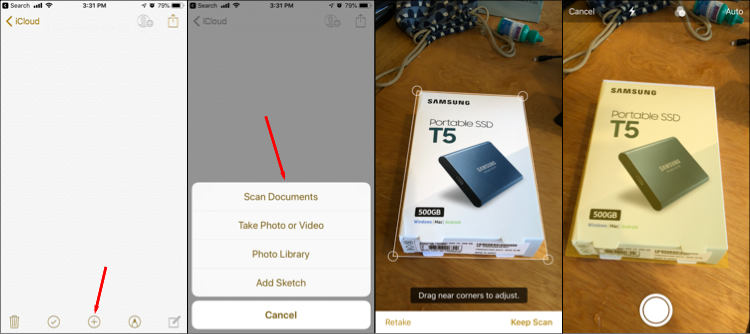 Scanning is quick and fast but has limitations that we have covered in our comprehensive guide to using Apple' document scanner. Limitation are as follows: Apple cannot export to PDF, and does not support advanced features like OCR (Optical character recognition)
Method 2 - Use PDF Scanner pro
Scanner apps like PDF Scanner Pro work far better than Apple built in scanning feature. Scanning is just as easy and simple as Apple's scanning feature and can be done within a few seconds.
You can launch the scanner app, point camera at your paper document, snap a picture, and PDF Scanner Pro will automatically create a high quality scan with the option to convert into PDF file.
PDF Scanner Pro also provide powerful editing features. Use 'Edit image' to stylize and annotate onto the scan. It works well if you want to add some handwritten notes or add a signature to the scan.
Lastly, exporting or emailing PDF is quick and easy. Simply tap on  'Preview & Save Doc', followed by 'Email PDF' from the top left menu button.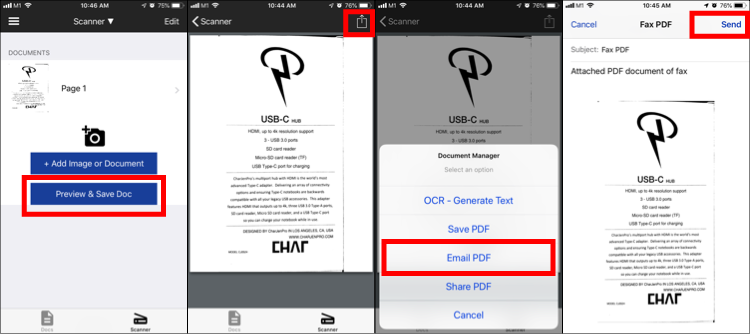 PDF Scanner Pro is the top rated scanner app on the iOS App Store, with over 1 Million+ Downloads, 4.5 Stars and 1,200++ Ratings on the iOS App Store as of October 2018. Check out PDF Scanner Pro on the App Store.
Method 3 - Use camera and desktop software
You can also use desktop software like Scan2PDF. However the steps are a little more complex. You need to first download the software on window desktop computer, and then open a picture or photo that is already on your desktop computer.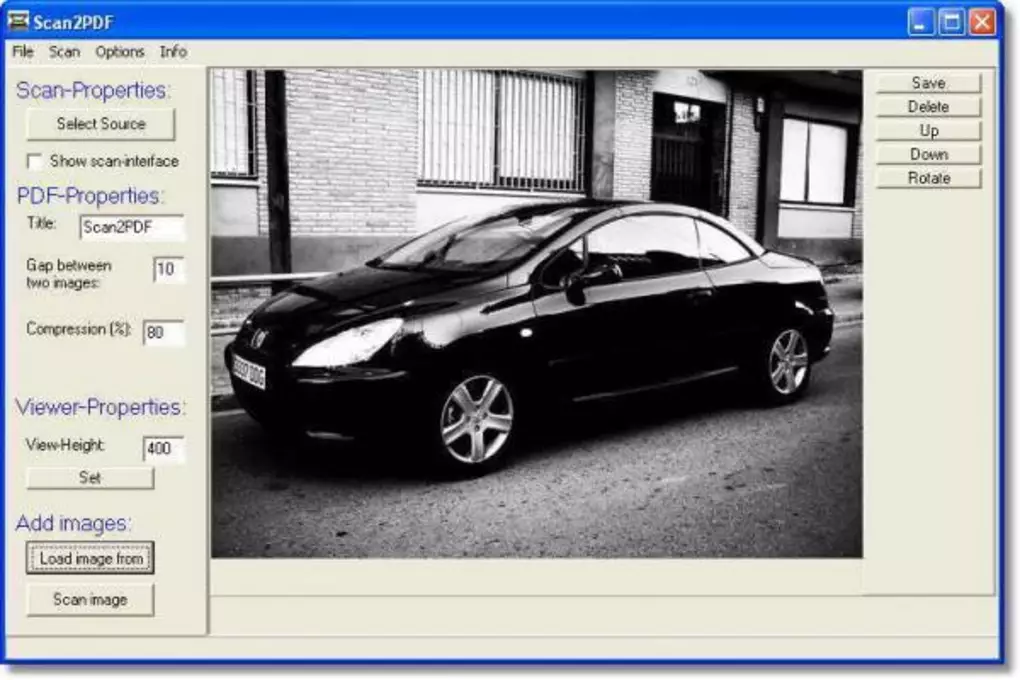 After you have imported your image to Scan2PDF, you can see that it contains some basic image editing features. After editing, you can also export the file into a PDF document.
However, the software seems a little outdated. From what we see, it was last update in 2006. You may also find that there are no option to adjust image parameters such as saturation color balance hues or contrast.
How to scan with iPhone camera- The best method?
Which is the best method? We highly suggest using scanner apps like PDF Scanner Pro as it is the easiest and quickest way to create PDF documents on iPhone. Advanced features like annotation, OCR (Optical Character Recognition) and exporting to PDF makes PDF Scanner Pro our favorite way to scan with iPhone camera.