Are you looking for free SMS to send online without registration? A Free SMS tool that actually works in 2020? You are at the right place for sending any international, anonymous, free and quick SMS right from your desktop or mobile browser. No matter you are on your phone or computer, it will work. as long as you are online, you can use this tool to send or receive SMS without registration step needed.
---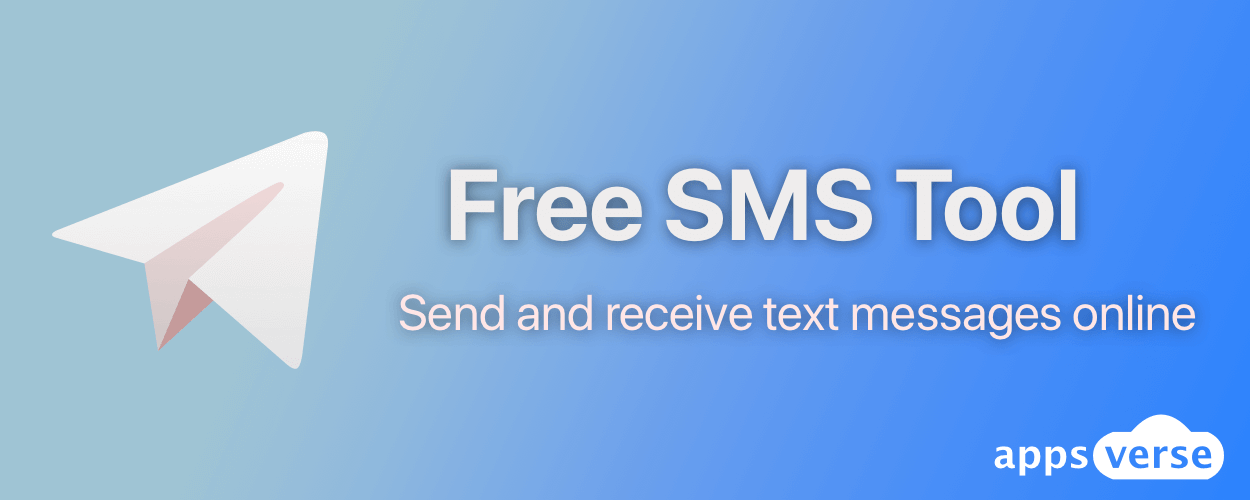 ---
How to send free SMS online without registration
With our free SMS online tool, sending a free SMS is easy.

Here is how to send free SMS online without registration:

1. Visit Online SMS tool from Appsverse Tools

To do this, go to url this url on your browser https://www.appsverse.com/tools/free-sms-online-without-registration.

2. You should see a landing page where you can either choose to send SMS or receive SMS

3. Choose 'Send SMS'

4. Choose country code you want to send to

5. Enter phone number you want to send to

6. Type in your SMS message

7. Hit 'Send'

8. Wait for a few moments and hit 'Send' again
---
Does this Free SMS online tool work in 2020?
Yes, it is verified and working in 2020. We are one of the only few free online SMS tool that actually work. The reason for this is because we are not just another spam website with lots of ads that do not work to send online SMS. Instead, we are an actual online SMS service and company. Our SMS phone number app, Phoner, is one of the top rated phone apps in 2020.
---
Why is registration not needed to send free SMS?
We want to make it quick for users to send any SMS they need. Therefore, we do not need online users to register from the beginning.
---
Are there any limits to sending free SMS from your online texting tool
We would love to make an unlimited online texting service where you can send or receive SMS infinitely. However, sending each SMS costs money as we do this in partnership of local carriers. Therefore, every user has a limit to 4 online SMS messages for sending and receiving.
---
Can I send text again if I have exceeded the limit?
Yes, you can continue sending texts with our mobile app Phoner - Second Phone Number
---
Why would someone need an online SMS tool in 2020?
SMS is still more widely used than you think, and there are endless reasons why someone will need to send an SMS from online. - Send SMS but hide personal phone number - Send SMS to someone that has blocked you. You can use this tool to send and receive text messages unblocked - Send SMS to warn someone of something - Send SMS to confess your love anonymously - Send SMS to prank someone - Send SMS to customers if you are a business owner
---
Can I send free international SMS online? What countries are supported?
At this moment we support free SMS send online without registration for US, UK and Canada numbers. Send free SMS online without registration in UK without any hassles. If you are not within United States, United Kingdom, or Canada- Sorry about that. The tool will not work for you.
---
Can I use this for illegal purposes?
The answer is no. Even though we will never share our user information as this is kept completely private, we will support law enforcement where necessary.

Users who use our tool for illegal use will have their IP addresses, messages and timestamps reported.
---
What cannot be included in SMS messages?
Vulgar, hate, offense messages are not allowed. Harassment is not allowed. Spamming is not allowed. Links, company names, and organization names are also not allowed.
---
Does this tool do anonymous texting online to send and receive?
Yes, we support both sending and receiving of text messages via SMS.

Text messages are anonymous because we provide free temporary phone number. When you hit 'send', you make use of our anonymous phone number instead of your real phone number.

Your real phone number and caller ID will never appear on your recipient's phone or call logs, SMS logs.
---
Free SMS send online without registration
Free SMS send online without registration is easy with our web tool. Try it out now and share with us any feedback that you have.