Have you ever wondered: how do I fax papers from an iPhone?
If you're looking for a quick fix to fax papers from your iPhone, all you need is a reliable iPhone fax app like Zap Fax.
Not only is Zap Fax free to download, you can also save money faxing papers from your iPhone instead of heading over to your local print shop.
Want to start faxing papers from an iPhone? Read on to find out how you can do so with Zap Fax.
How to fax papers from an iPhone with Zap Fax
Transform your cell phone into a portable fax machine anytime, anywhere with Zap Fax.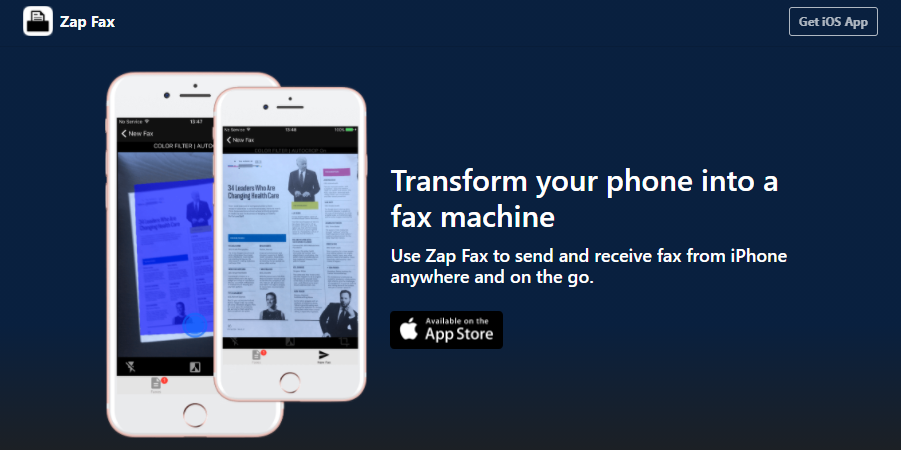 When you use Zap Fax, sending and receiving faxes on your iPhone is as simple as sending a text message.
All new users get up to 5 free pages to fax with on Zap Fax.
To get started, simply follow these steps:
Download Zap Fax from the Apple Store.
Open the app on your iPhone
When the scan area is completely highlighted, tap the center button.
Use editing tools to mark up your faxes.
Ready to send? Select Confirm.
Choose the option to Email PDF
Type in a subject, and the email address of your recipient.
And that's all you need to do.
Start sending faxes anytime on-the-go with Zap Fax in 5 minutes or less.
Never worry about losing any detail - Zap Fax guarantees crystal-clear faxes in all common file formats.
And even when you're overseas, Zap Fax has you covered with international fax numbers from over 35 countries.
Above all, your privacy is also Zap Fax's priority. Get assigned a private fax number that works just like a burner phone number, and fax on the go while keeping your phone privacy safe. '
Here's why you should fax on your iPhone with Zap Fax
You might also be wondering: with so many iPhone fax apps out there, why should I fax papers from my iPhone with Zap Fax?
That's because Zap Fax isn't your average iPhone fax app.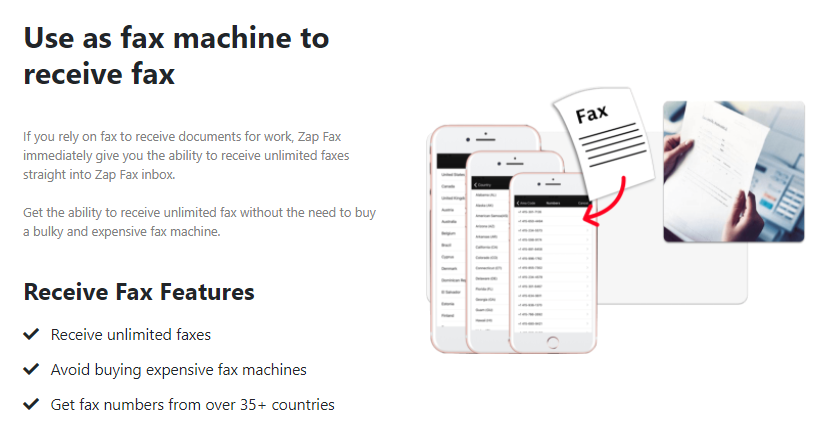 When you fax papers on an iPhone with Zap Fax, you get:
High-quality faxes with just your phone camera
Easy conversion into all common formats like PDF
International faxing
Direct faxing without leaving the app at all
Full privacy protection while you fax on the go
With Zap Fax, everything you need to send a fax on your iPhone is on one secure platform.
There's no other third-party or cross-platform integration, which means lower privacy risk – and a lesser chance of running into security issues.
Zap Fax also does not store you faxes or store copies of them.
As an added benefit, Zap Fax also works as a handy QR code scanner. Save yourself the trouble and get two apps in one!
What about online fax services that work with iPhones?
Online fax services like RingCentral and eFax have been around for a while now.

Some of these online fax services do run on iOS, but you're likely paying for more than you actually need with them.
That's because many of these online fax services don't just deal with fax. Often, they pack many business features like cloud integration with online storage or productivity tools, a wider range of formats to convert faxes to, and even business conferencing tools.
If you're running a serious side hustle or a small business, an online fax service might be ideal for you.
But if all you need is to be able to easily fax on the go anytime you want, a simple iPhone fax app like Zap Fax is likely all you'll need.
Plus, if you only intend to send just one or two faxes, an iPhone fax app often comes with a few free faxes you can take advantage of.
Fax papers on your iPhone with Zap Fax
Skip the print queue and never have to deal with a clunky fax machine again when you fax on the go with Zap Fax.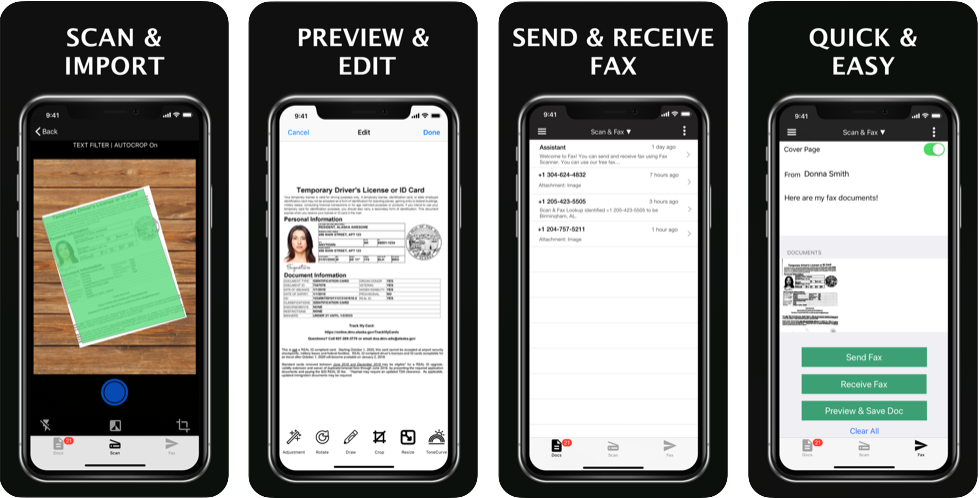 With Zap Fax, your iPhone gets instant fax powers. Simply point your phone camera, get instant faxes, and send the out hassle-free.
And with private fax numbers protecting your privacy, you can rest assured nobody's going to sneak a peek at your faxes.
So that's our answer to how to fax papers from an iPhone. Download Zap Fax today and start faxing papers anytime you want, anywhere you are.