Looking for a free fax app for iPhone that you can use to send a document over in a hurry?  Many government agencies and companies still use fax services. Instead of fumbling around with an old fax machine, why not send free fax from iPhone apps?  
Free iOS fax apps can easily be found on the Apple App Store, but while they all let you fax for free on iPhone, exactly which ones deserve the title of best free fax app for iPhone?
If you're looking for a free fax app for iPhone or just looking for a quick fix to send fax free from your iPhone, the apps in this list can get the job done. Read on to find out more.
Free fax app for iPhone: Top 5 free iOS fax apps
Free Fax App for iPhone 1: eFax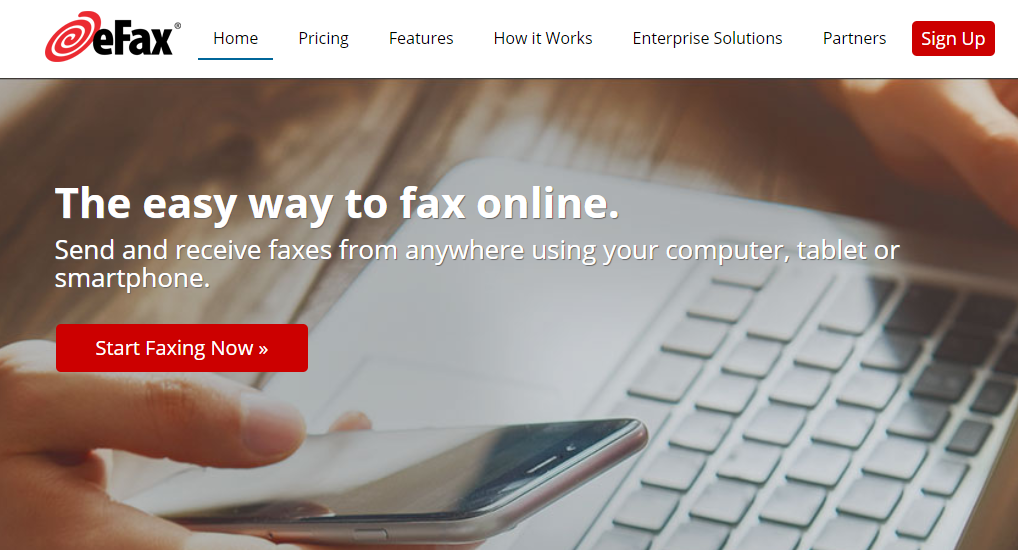 eFax frequently ranks among the best free fax apps for iPhone. With a generous 30-day trial period and a basic plan that provides 200 free faxes a month at no additional charge for international faxes, the app is great for sending free fax from iPhone both locally and internationally.
eFax also packs a lot of useful additional features. The app lets you place digital signatures on your faxes, and comes with third-party cloud storage for all your faxes.
What makes eFax really stand out however, is its unique large file sharing feature that lets you share large files directly with up to 20 recipients at once. If you frequently work with image heavy presentations, projects or other storage-heavy documents, this can be really useful.
Naturally, all these cool features come with a heftier price tag. Efax's basic plan, Efax plus, starts at a relatively pricey 16.95 a month. If you're a small business looking for a mobile substitute to a traditional fax machine, eFax is among the best free fax app for iPhone you should get. If you rarely send faxes and only use it on rare occasions, this might be overkill.
Free Fax App for iPhone 2: RingCentral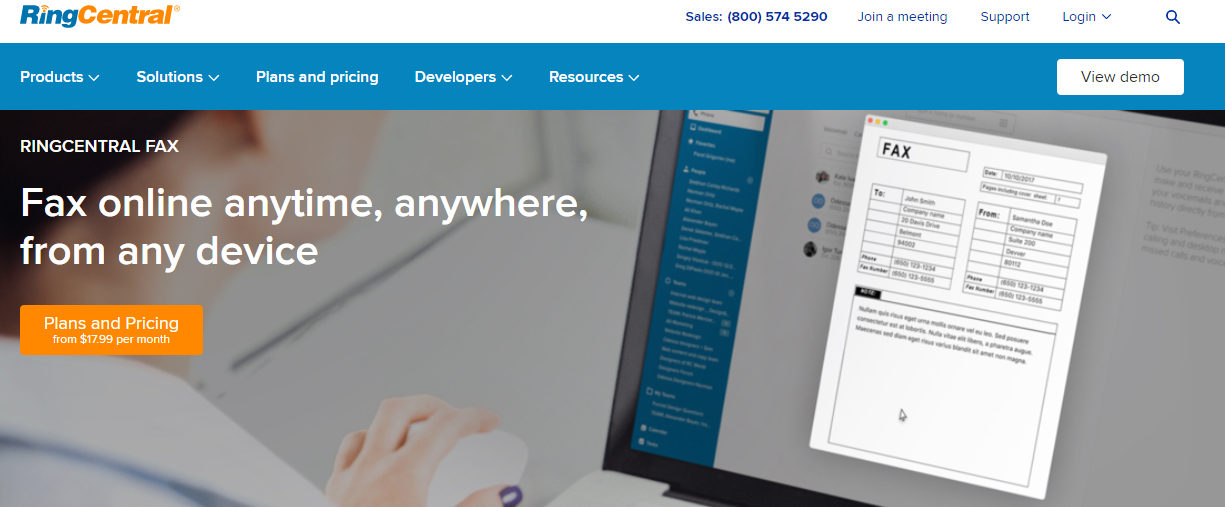 We've talked about RingCentral in a previous article on business phone apps, and its suite of business communication services also comes with a fax app for iPhone.
RingCentral is a huge player here, but just like eFax, their free fax app for iPhone appears to be more geared towards businesses rather than individual use. The app gives you the option to send between 500 to unlimited faxes a month depending on which plan you subscribe to, and also provides cross-platform integration and support for mobile and web.
Where RingCentral truly stands out is the app's ability to integrate with popular cloud tools like Google Drive and Dropbox. You can simply fax documents using RingCentral, and then find or store them easily on your cloud storage.
For what it's worth, RingCentral is really expensive, even for businesses. International faxes have an additional charge of 5 cents to 1 dollar. The starter plan, Fax 1500, starts at a whopping 17.99 a month. If you're a business looking for a full suite of business communication services to manage all customer conversations on one platform however, this might be worth considering.
Free Fax App for iPhone 3: MetroFax
If eFax and RingCentral are designed with businesses in mind, MetroFax is likely somewhere in between businesses and individual users.
Unlike the previous two apps, MetroFax does not boast as many additional features. What it does have, however, is the ability for users to share accounts by adding up to five users by email address. MetroFax's plans also start at a cool 9.95 a month for 500 faxes, so it's a lot easier on the wallet.
MetroFax does fall short on two aspects though. For one, the user interface for its fax and email clients appear to be rather outdated. Unlike the other apps which feel seamless and "whole", MetroFax tends to be clunky. The app also seems to neglect user security, as the fax platform does not support 2-factor authentication when logging into either your web account or mobile app.
Free Fax App for iPhone 4: iFax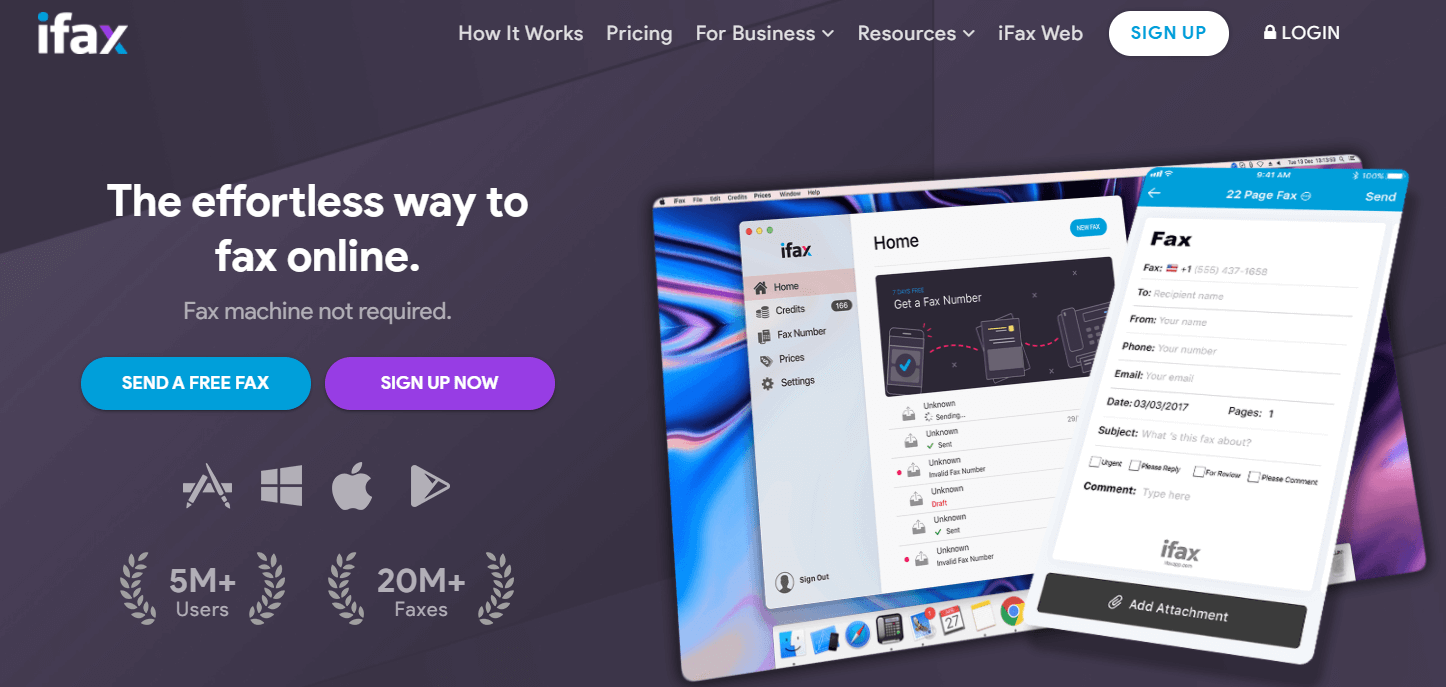 Most free fax apps for iPhone allow you to fax documents in popular formats like PDF or JPEG, but what if you need unique file formats for certain industries, like CAD in construction work?
iFax is the solution you need. This free fax app for iPhone is among the rare few that provides wide compatibility of many file formats beyond the standard ones.
The app isn't without its shortfalls. iFax does not allow you to share faxes beyond your intended recipient, nor does it allow you to add digital signatures to your documents. It also has the shortest trial period of just one week. Still, iFax's basic plan, iFax plus, starts at a relatively more affordable 8.33 a month.
Free Fax App for iPhone 5: Zap Fax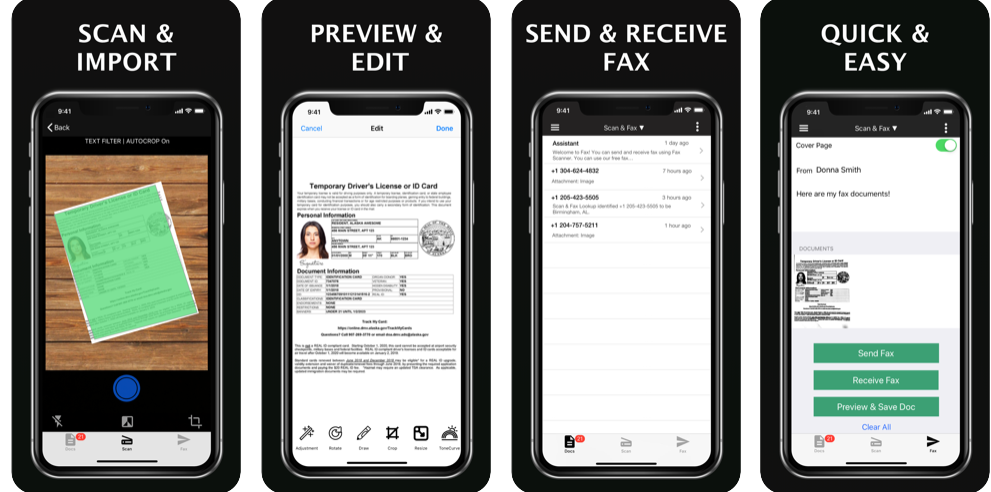 If all you need is a no-frills, no-nonsense app that can fax clear documents in common file formats, Zap Fax is the best free fax for iPhone for you.
Zap Fax is designed with the everyday user in mind. Most of us won't need to fax documents regularly. In fact, it's likely that we'll only fax documents just twice in a month, or even less. While other apps require you to register before you can start a free trial, Zap Fax allows you to send 5 free faxes with no strings attached.
Unlike most other fax apps on this list, Zap Fax also does not complicate things with a web platform. Our mobile app is all you need to send, share and organize your faxes.
When you use Zap Fax, you can scan and transform angled documents into flat soft copies. Our in-built optical character recognition (OCR) support feature can convert your scans into text you can edit or translate into multiple languages.
Zap Fax also values your privacy. Mobile apps can't seem to shake off privacy scandals these days, but you can fax your documents with a peace of mind with Zap Fax. That's because when you use Zap Fax, you get a burner phone number just for faxing. This helps conceal your actual number so that faxes cannot be traced back to you.
Zap Fax: The best free fax app for iPhone for the everyday user
Effective, safe and straightforward. Zap Fax is the ideal free fax app for iPhone if all you need is an easy-to-use app that sends and receives clear faxes and protects your privacy at the same time.
Small business owner that needs to fax in a hurry? Try Zap Fax.
Need to send your medical report to your doctor? Zap Fax is what you need.
Want to send personal documents to a government agency? Zap Fax works all the same.