Flying alone for the first time can be both an exciting and daunting experience. It's a chance to explore new places, but it can also be stressful, especially if you've never flown alone before. But fear not, as there are many things you can do to make your first solo flight a success.
In this article, we share plane and simple tips for flying alone from what to do before you fly, things to do at the airport, and what you can expect when arriving at your destination - including getting a second phone number! Let's take off into those tips for flying alone for the first time!
Tips for Flying Alone: Before You Fly (& TSA Tips for First Time Flyers)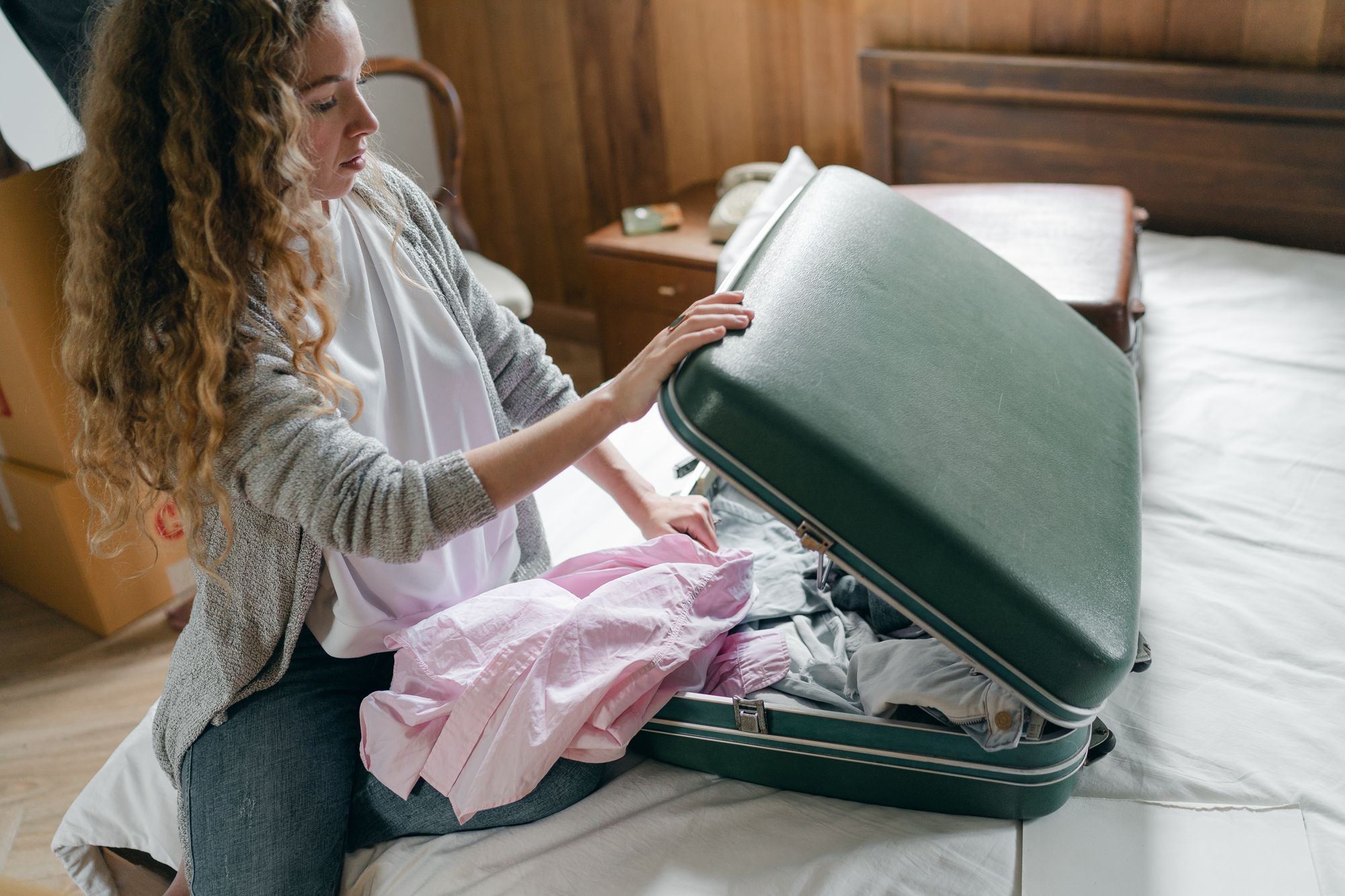 Check travel restrictions: Many countries have travel restrictions in place due to the pandemic. Make sure to check the entry requirements for your destination country before you book your flight. You may need to provide a negative COVID test result, quarantine for a period of time upon arrival, or show proof of vaccination.
Check your airline's policies: Different airlines have different policies when it comes to COVID-related issues, such as cancellations, refunds, and rescheduling. Make sure to check your airline's policies before you book your flight so you know what to expect in case your plans change.
Choose the right airline: Do your research and choose an airline that suits your needs. Check if they offer online check-in, meal options, and if they have good customer service. You can also check reviews online to get an idea of other people's experiences.
Book your seat: Make sure to choose your seat in advance, as this can make a big difference to your comfort level during the flight. You can either choose a window or aisle seat, depending on your preference. If you are anxious about turbulence, choose a seat over the wings as this is the most stable part of the aircraft. If you are claustrophobic, choose an aisle seat as this will give you more space.
Pack smart: It's important to pack wisely when it's your first time flying alone. Be sure to follow the airline's guidelines for carry-on and checked baggage. Keep in mind that most airlines charge additional fees for checked baggage, so try to pack everything in a carry-on and keep it as flight as a feather.
Also, make sure to pack any necessary items such as medications, electronics, and chargers in your carry-on bag. Be sure to check the TSA regulations for liquids, electronics, and other items you can bring on board.
If you require a comfort item to manage anxiety about flying, you can pack it on your carry-on baggage as well. This can be a blanket, pillow, or stuffed animal. Having something to hold onto can help you feel more secure and calm your nerves. To avoid the stress of having to dispose of items at the airport, do be mindful of weight restrictions.
Dress Comfortably: Comfort is key when flying, especially on a long flight. Make sure to dress comfortably in clothes that are easy to move around in, as well as easy to take off and put on during security. It's also a good idea to wear shoes that are easy to slip on and off, as you'll need to remove them during security.
Bring hand sanitizer: Bring a small bottle of hand sanitizer and use it frequently throughout your journey. You may not always have access to soap and water, so hand sanitizer can help keep your hands clean.
Bring a mask: Masks are required on planes and in airports in many parts of the world. Make sure to bring your own mask and wear it throughout your entire journey. In some cases, you may be required to wear a specific type of mask, such as a surgical mask, so check with your airline before you fly.
Arrive early: One of the most important tips for flying alone is to arrive at the airport early. This will give you plenty of time to navigate through security, find your gate, and get settled in before your flight. As a general rule, it's recommended that you arrive at the airport at least two hours before your scheduled departure time for domestic flights, and three hours for international flights. Furthermore, some airports have increased security measures and health screenings in place, which can result in longer wait times. Make sure to arrive at the airport early to allow plenty of time for these additional steps.
TSA tips for first time flyers - use the TSA PreCheck program: If you travel frequently, consider applying for the TSA PreCheck program. This can help you save time at security by allowing you to skip the regular lines.
Bonus Tips for Flying Alone: Getting a Second Phone Number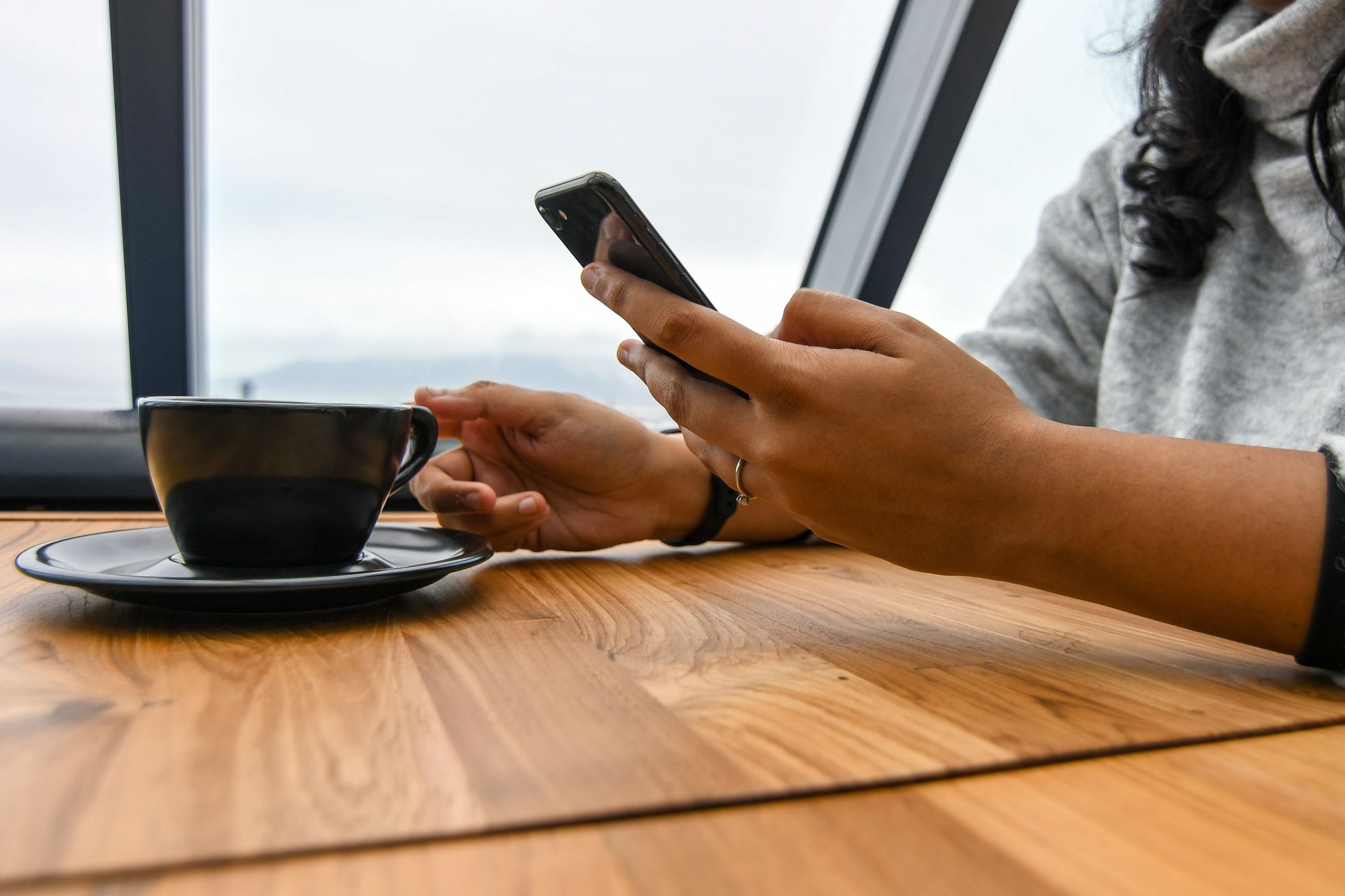 Before flying, you can consider getting a virtual second phone number. This is a convenient and practical solution especially if you are planning to meet someone at the airport destination already, or if you foresee that you will be unable to find a SIM Card provider at the airport.
There are many virtual phone services available that offer second phone numbers for a fee. Some popular options include Google Voice and Phoner. These services allow you to choose a local number and use it for calls, texts, and voicemail. Some, like Phoner, even provide a range of features, such as call forwarding, voicemail, and auto-attendants, to help you manage your calls and messages.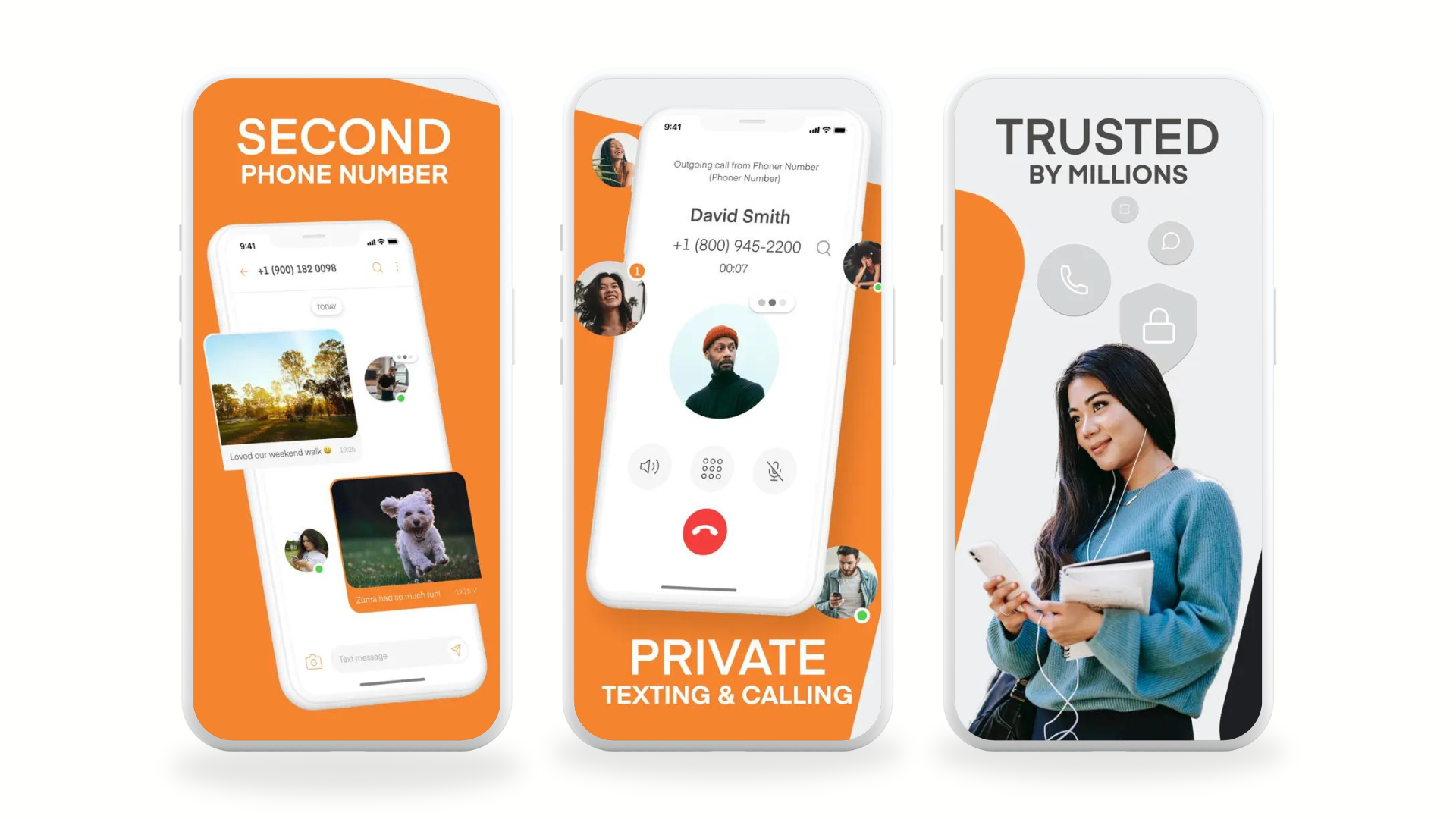 What's more, you'll get to use this local number from the same mobile phone, without taking out and reinserting a new SIM card. That's going to prevent additional stress when you are flying alone for the first time and trying to figure things out in an unfamiliar environment! Now, let's get into how to fly by yourself at the airport.
Tips for Flying Alone: At the Airport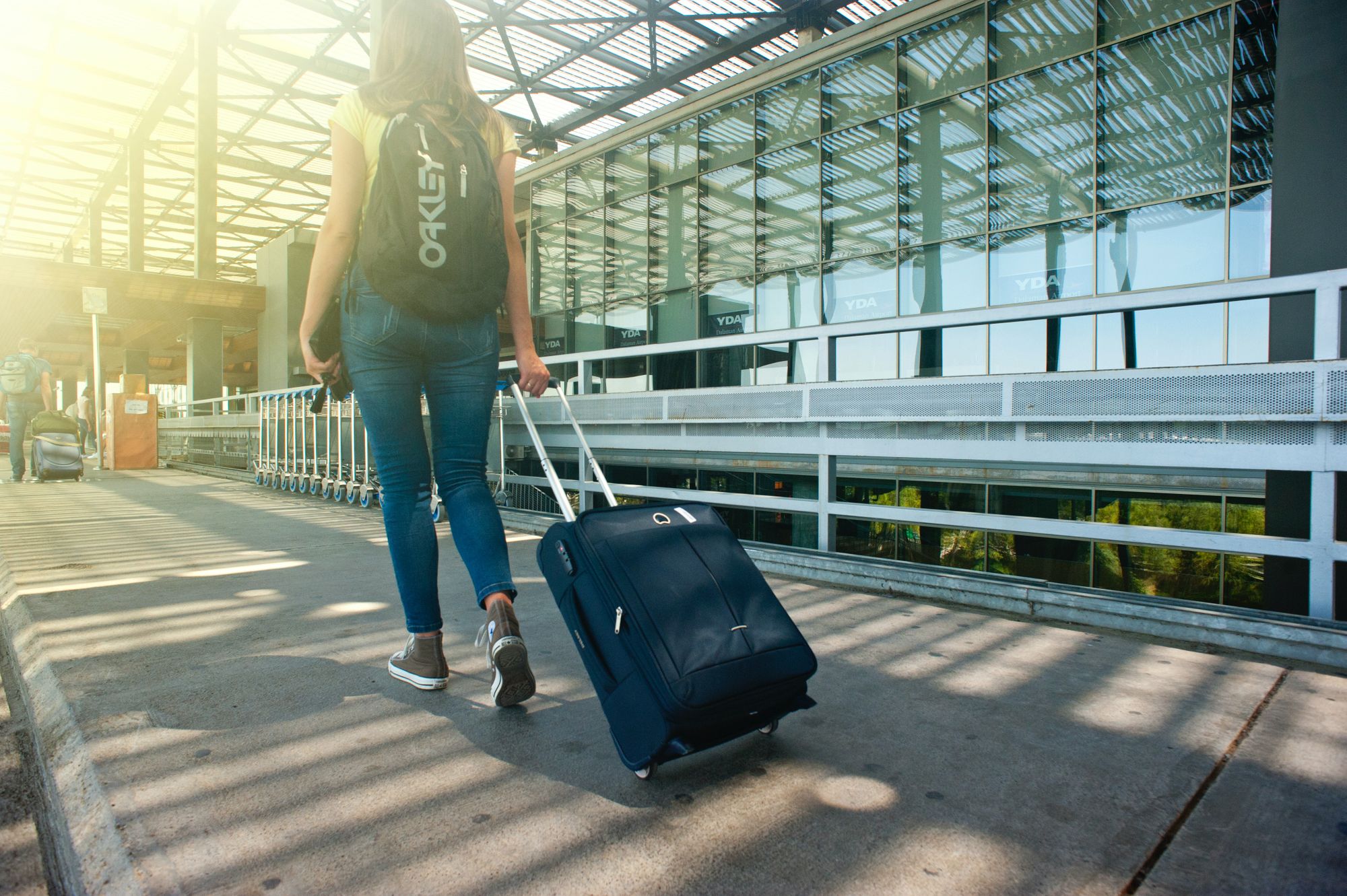 Check-in: Before your flight, it's important to know the check-in process. Most airlines allow you to check-in online or through a mobile app, which can save you time at the airport. If you're not able to check-in online, you'll need to go to the check-in counter at the airport or any self-service kiosks if available.. Be sure to have your travel documents (your ID and ticket) and any checked baggage ready. If you have checked baggage, make sure to weigh it and attach the baggage tag to it.
Go through security: Make sure to have your ID and boarding pass ready, and follow the TSA rules for liquids, electronics, and other items. You'll also need to remove your shoes, belt, and any jewelry before going through the metal detector.
Be prepared for temperature checks: Some airports may conduct temperature checks before you board your flight. If you have a fever or other COVID symptoms, you may not be allowed to board your flight.
Find your gate: Once you've made it through security, it's time to find your gate. Check your boarding pass for your gate number and follow the signs to your gate. It's important to pay attention to the boarding time, as you don't want to miss your flight.
Tips for Flying Alone: Getting On the Plane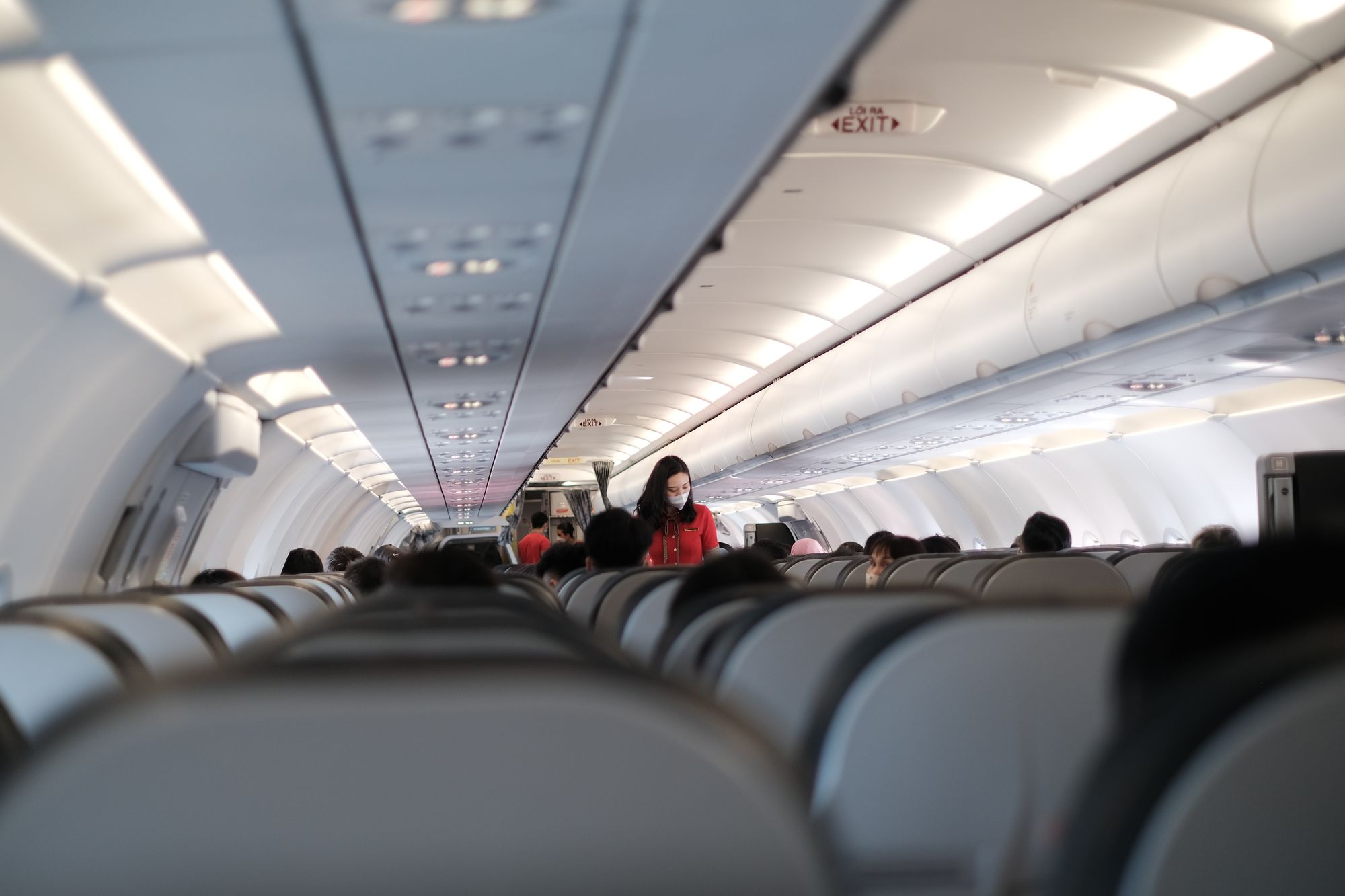 Listen to the safety briefing: Pay attention to the safety briefing given by the flight attendants. It's important to know where the emergency exits are, how to use the oxygen masks, and other important safety information.
Use headphones: Noise-canceling headphones can be a great investment, especially on a long flight. They can help you relax, sleep, or watch a movie without being disturbed by the noise around you.
Stay hydrated: Make sure to drink plenty of water during the flight to prevent dehydration. The dry air inside the plane can make you feel thirsty, so it's important to keep a water bottle with you. Normally, you should be able to fill up your water bottle after going through security.
Limit contact with surfaces: The COVID virus can survive on surfaces for several hours, so try to limit contact with surfaces in the airport and on the plane. For example, use a tissue or a sleeve to open doors, and avoid touching your face.
Bring your own food and drinks: Some airlines have limited food and beverage service during the pandemic, so consider bringing your own snacks and drinks for the flight.
Stay calm: Flying alone can be nerve-wracking, but it's important to stay calm and relaxed. Take deep breaths, listen to music, or read a book to keep your mind off your anxiety.
Avoid caffeine and alcohol: Caffeine and alcohol can exacerbate anxiety, so it's best to avoid them before and during your flight. Instead, drink water or herbal tea to stay hydrated and calm.
Communicate with the flight crew: If you are feeling anxiety about flying, you can also let the flight crew know that you are flying for the first time. The crew is trained to deal with anxious passengers and can offer you reassurance and support. They can also provide you with information about the flight and answer any questions you may have.
Practice relaxation techniques: Relaxation techniques, such as deep breathing, meditation, and visualization, can be effective in managing anxiety about flying. These techniques help you calm your mind and reduce stress. Now, it's time to take flight!
Tips for Flying Alone: Arriving at Your Destination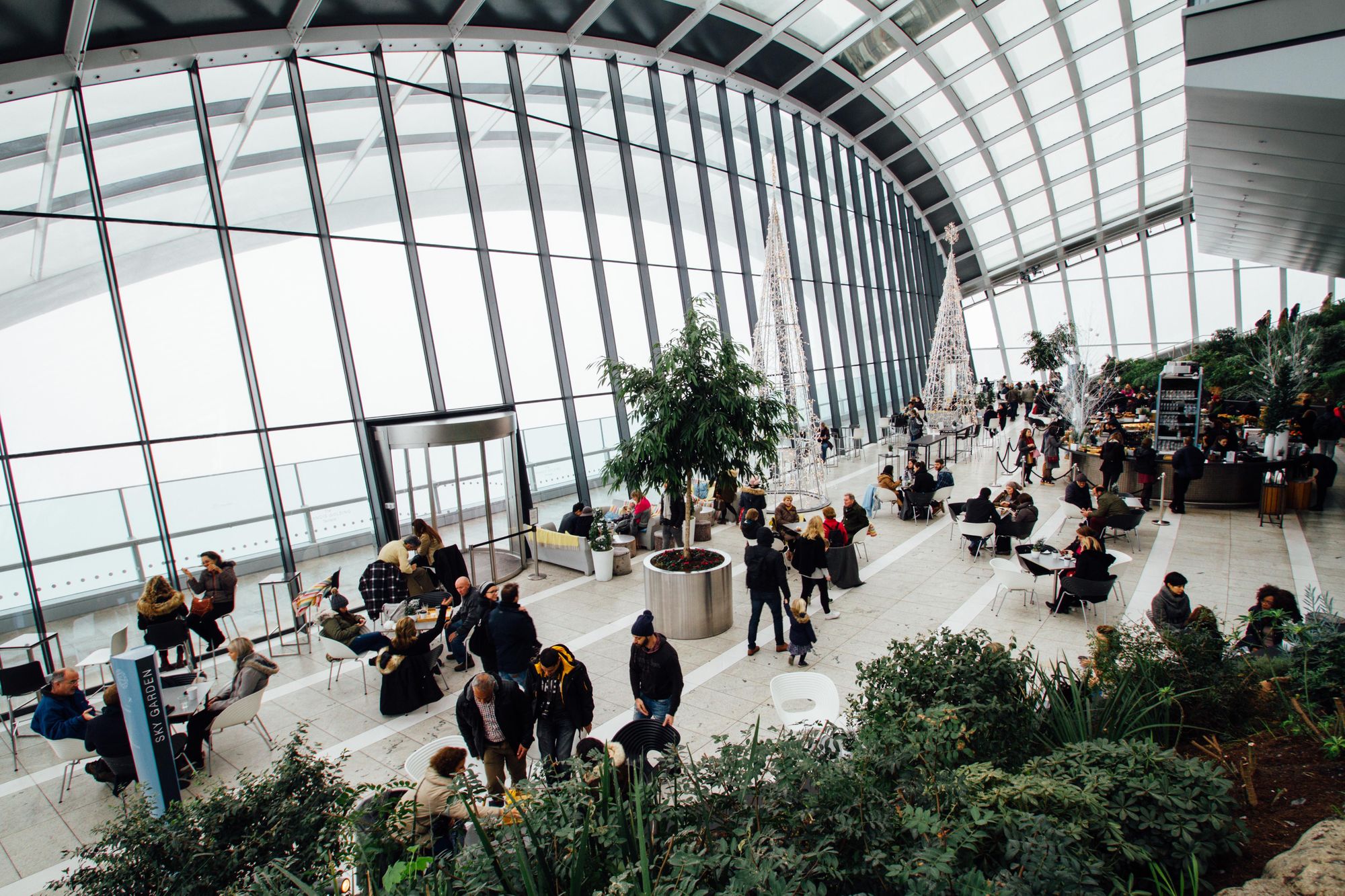 After getting off the plane, there are several things you should do to ensure a smooth transition and a safe arrival as a traveller who's flying alone for the first time:
Gather your belongings: Collect all of your personal belongings, including your luggage, and make sure you have everything before leaving the aircraft. Check the overhead bins, the seat pockets, and the floor around your seat to ensure you don't leave anything behind.
Follow airport signs and directions: Once you leave the aircraft, follow the signs and directions to the baggage claim area or other parts of the airport that you need to get to. Depending on the airport, there may be different routes or transportation options available to you, such as shuttles or trains.
Go through customs and immigration (if necessary): If you are traveling internationally, you may need to go through customs and immigration before leaving the airport. Make sure you have all necessary travel documents and fill out any required forms before approaching the customs and immigration officers.
Retrieve your luggage: Once you arrive at the baggage claim area, look for the conveyor belt that corresponds to your flight and wait for your luggage to arrive. Check the luggage tags to ensure that you are picking up the right bag.
Clear security: After you retrieve your luggage, you may need to go through security again before leaving the airport. Depending on the airport, you may need to pass through a metal detector or have your bags scanned. Follow the instructions of the security personnel to ensure a smooth and safe transition.
Arrange transportation: Once you clear security, arrange transportation to your final destination. This could include taking a taxi, a bus, a train, or a rental car. Make sure you have a plan for how you will get to your hotel or other location.
Take care of any immediate needs: Depending on your situation, you may need to take care of immediate needs such as exchanging currency, buying a SIM card for your phone, or getting a snack or a drink. Take care of these needs before leaving the airport.
Check your flight status: If you have a connecting flight, check your flight status to ensure it is still on time and confirm the gate and terminal information. Make sure you allow enough time to make your connection.
Conclusion
Flying alone for the first time can be an exciting yet nerve-wracking experience. But with the right preparation and mindset, you can make your solo flight a success. By following these tips for flying alone, you can ensure a smooth and stress-free journey.