How to record a phone call on iPhone secretly?
Horrible managers, bosses, rude clients, or crazy people from your past. The next time you receive an angry or abusive phone call, doing a call recording will certainly help and save you. How to record a phone call on iPhone secretly? You should already know that call recording is not supported on an iPhone out-of-the-box, but this is certainly possible and much easier to do that you think. We will show you how.
Why you might want to record
There are plenty of legitimate reasons why you may want to record a phone call. Here are some general reasons why you might want to record a phone call.
Legal reasons keep as evidence
Keepsake or sentimental reasons
Capture missed or forgotten details
Proof of verbal abuse or unreasonable behavior
Conduct phone interviews
Why record secretly without the person knowing
There are certain situations where the calls are of a more angry or abuse nature and you may want to record the phone call secretly without the person knowing for these reasons:
Retain natural dynamics of conversation
Have someone speak freely and truthfully
Capture real emotions in the moment
Even though the benefits of phone recording to protect yourself seem obvious, call recording is not automatically allowed and legal in every part of the world. There are laws that govern recording phone calls and phone conversations.
Legal issues around call recording in your state
It is of utmost importance that you check the call recording laws in your state before you actually record any of your phone calls. Up to 11 states in the US require a 'two-party consent', which essentially means that every person involved in the phone call has to acknowledge the background recording and also give explicit permission for recording to happen.
The remaining states use something called a "one-party consent" law when it comes to recording. Since you are allowed to be the "one" party, you can pretty much record the phone call without informing the other party and explicitly getting his or her permission.
Since the recording methods you choose are unlikely warn of individual state laws nor force you to abide by them, the safe practice is to always inform every party of the recording, if you plan to record a phone call on iPhone secretly.
How to record secretly
To record a phone call secretly, you need a call recording app like iRec. Call recording apps make use of a clever way of attaching an undetectable recording line to your existing phone calls that will record the call quietly and secretly.
Here is how you can record a phone call on iPhone secretly:
Step 1: Download iRec Call Recorder which is the top downloaded and top rated call recording app in the Apple App Store. When you open the app, you should see a big red record button which is what you need to tap on if you want to begin the recording.
Step 2: After tapping on the big red button, you will need to dial the number that you want to call. You need to include the international country code since iRec Call Recorder supports international call recording.
Step 3: When you tap on call, your iPhone will initiate a phone call to our quite and undetectable call recording line. Once the call is connected, iRec Call Recorder will then initiate another call the number you want to talk to. By establishing a call with the recording line first, your recording activity and step will go completely undetected by the party you are calling.
Step 4: As soon as the second call is established, you want to take a quick glance at your iPhone screen and you should see two calls connected (the first one is on hold). You are right on track. The last thing to do here is to look at the bottom left selection and select "Merge calls". Now, the recording line is attached to your call secretly and will continue to record the entire call and go undetected.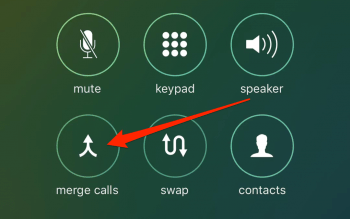 How to email or share your recording?
After you have made the recording, you can go to the 'Recordings' tap and go into each recording and download or email the recordings you want to a desktop computer or online storage.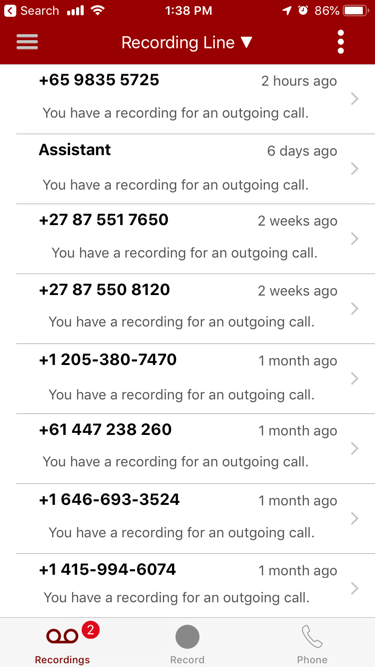 Where to Download iRec?
iRec Call Recorder App is top rated on the iOS App Store, with 1 million+ downloads, 4.0 stars and 1,200++ ratings. iRec is easy to use and works best to record a phone call on iPhone secretly.
You can download iRec Call Recorder App via the Apple App Store.