Looking for a business card scanner app to use while networking?
Whether you're clinching an new project or attending a industry conference, making connections matters most.
And nothing gets you professional contacts faster than exchanging business cards.
But what happens you're getting one business card too many?
With COVID, and social distancing, physically exchanging business cards might not be possible either.
Here's our quick list of great business card scanner apps to keep your network growing in 2021.
Grow your connections with these 5 business card scanner apps
App 1: PDF Scanner
First on the list is our very own PDF Scanner.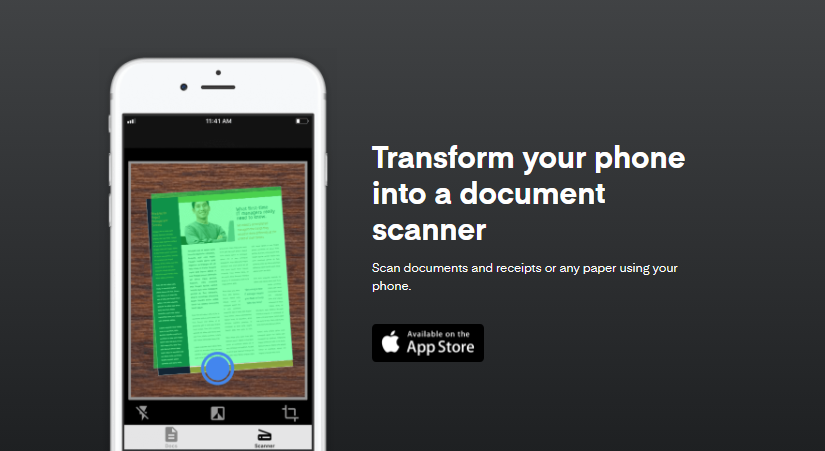 PDF Scanner is designed as an all-purpose scanner app. Be it office documents, a 100- page report or a simple name card, PDF Scanner gets the job done.
With unique image recognition techniques and optical character recognition technology (OCR), PDF Scanner promises nothing short of crystal-clear scans every time.
Too many business cards to handle? Toggle PDF Scanner's Batch Mode and you'll be building a quick contact list in no time.
Best of all? PDF Scanner is free to download off the Apple Store.
App 2: ABBYY Business Card Reader
No list of business card scanner apps can fail to mention ABBYY.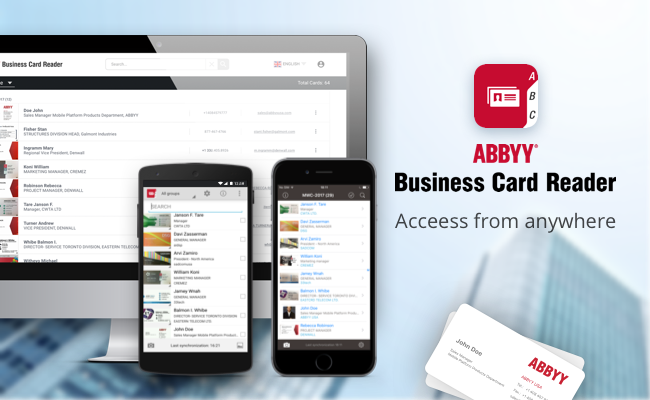 An established leader in OCR technology, ABBYY is all about being the best in their line of business.
Take their Business Card Reader for example. With features like:
Automatic contact backup across multiple devices
Automatic fill-in for missing fields
Automatic typo correction
ABBYY leaves no room for any flaws.
Even better? ABBYY Business Card Reader also lets you scan and store contact information from business cards in up to a whopping 25 languages.
App 3: Wantedly People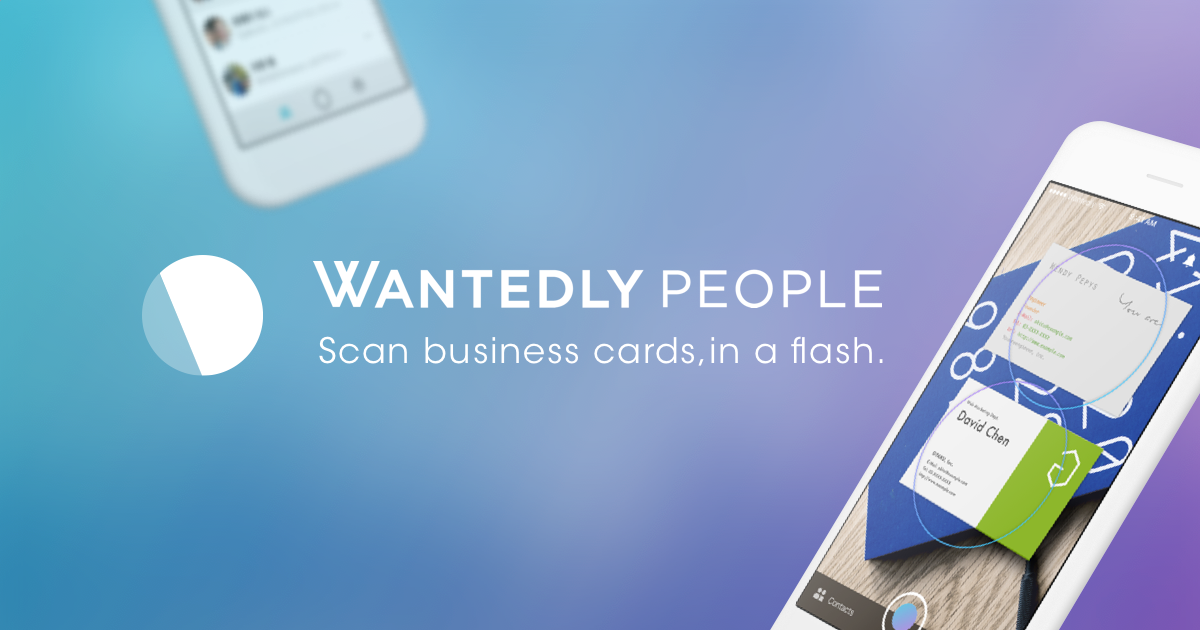 If you frequently find yourself dealing with hundreds of business cards, Wantedly People is here to help.
What makes this business card scanner app stand out from the crowd is its ability to simultaneously scan up to 10 business cards in one go.
Simply scatter the cards out and let the app do its job.
Wantedly People also allows you to immediately call or email contacts with a single tap, or even chat them up via Wantedly's built-in business chat platform.
App 4 : CardHQ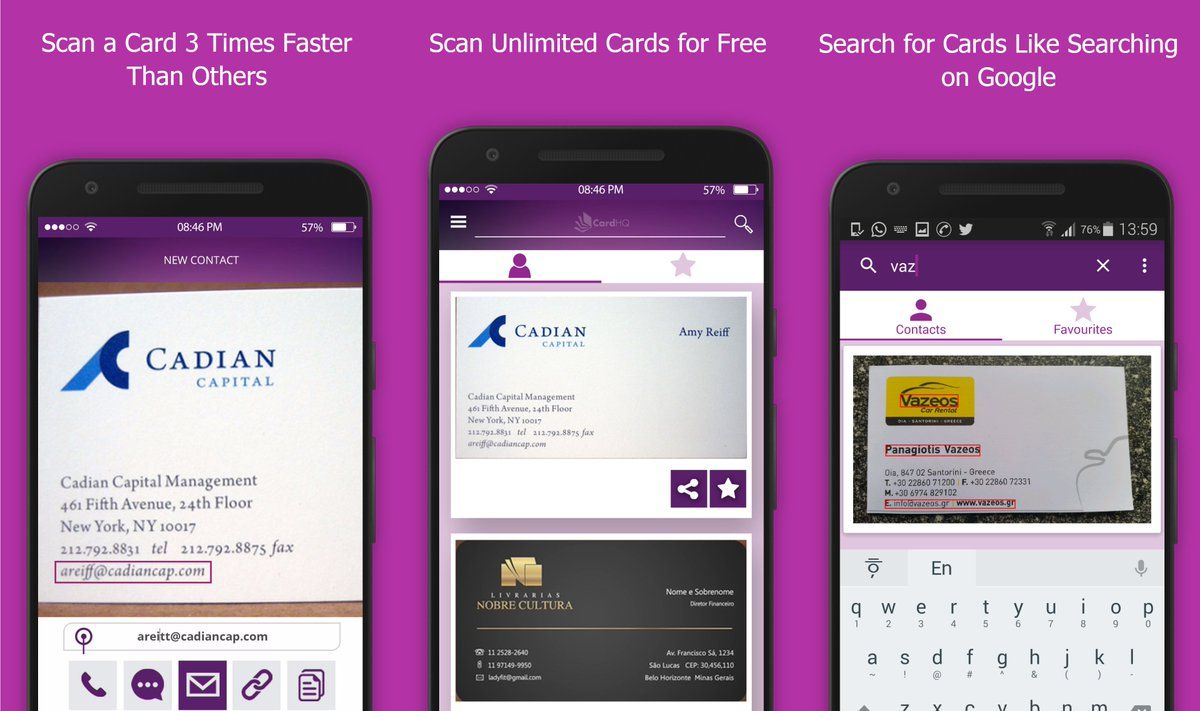 If you're looking for a business card scanner app that's basic and no-frills, CardHQ might be what you're looking for.
Absolutely free to use, CardHQ lets you scan an unlimited number of business cards at no cost.
Scan quality is fair, and scans can be shared via email or social media without you having to leave the app.
And just like our previous contender, CardHQ also lets you scan multiple cards at once – with multi-language support.
App 5: Eight by Sansan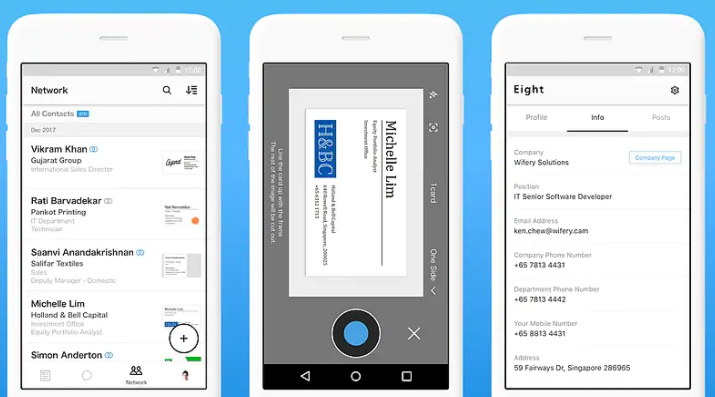 On the other hand, if what you need is a powerful corporate-driven solution, Eight by Japanese contact management provider Sansan might be a better pick.
Running off a cloud-based contact management system, Sansan lets you create a digital contact database that can be access from any device.
With Sansan, business cards are digitised both automatically (via the app) and manually (via dedicated Sansan support), ensuring both speed and accuracy.
Sansan's API support also enables direct contact sharing with third-party tools like email services, address books and customer relationship management systems.
Scan business cards quick and easy with PDF Scanner
Still, if you prefer a general scanner app that's versatile and reliable when it comes to scanning business cards, PDF Scanner is here for you.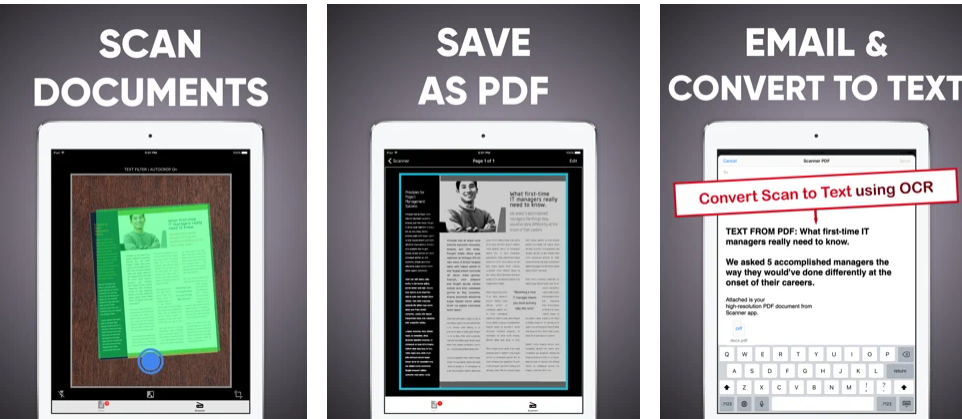 With powerful image recognition techniques, rest assured you'll never miss a single detail from your contacts' business cards again.
So that's our quick list of business card scanner apps. Get PDF Scanner and start scanning business cards quick and easy today!