As an entrepreneur or freelancer, you are always trying to grow your company. As a result, you could be calling and texting more than one client on a daily basis from your personal phone number. "What is a virtual phone number and can it help with my business?" This is a question that is often asked. The answer is - A virtual phone number could be a tool that would really make a big difference in your small business from day one.
If virtual phone numbers sounds to you like a big-business purchase, that is surely not true today. Low-cost, easy to use virtual number services have made it easy for any small business owners, freelancers, or new entrepreneurs to get the best of virtual phone numbers with spending as little as possible. Virtual phone numbers offer a ton of advantages that you may not realize you need - from privacy and productivity benefits that makes it a standout tool for business.
What is a Virtual Phone Number?
A virtual phone number is a telephone number that is not tied to any specific phone device or phone line. Rather, it is a telephone number that is programmed to forward incoming calls and messages to another phone number, which is usually your real personal phone line.
These numbers are also known as 'follow-me' numbers or 'forwarding-numbers'.
If this does not help to answer the question 'what is a virtual telephone number?', we will describe how it works which can hopefully present a clearer idea to you.
How does it work?
Virtual telephone number work as a forwarding phone number, which is also known as a redirection phone address, or a forwarding number. It is programmed by the carrier or service provider to route the phone call, usually through protocols like VOIP, instead of regular phone lines. Google Phone Numbers for example, are a type of virtual phone number. The image below which should give you a good idea how it works.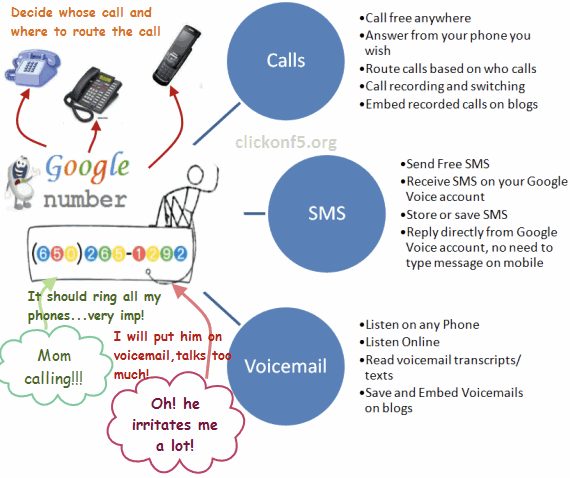 When someone calls you at your virtual phone number from Google, the service provider will take your call and through its internet infrastructure receive the call and reroute or "forward" to any number you have linked to your virtual number.
What "forwarding" means is, the service provider will first receive the call on your behalf, and then send the call to your actual cell phone so that you can receive it.
In the end result, your cell phone simply rings immediately when someone calls your virtual phone number as if that was your own.
What is the past history of virtual mobile numbers?
In the past, a phone number is typically provisioned to work over an individual phone lines. From the carrier or phone company, the line is a telephone wire that is physically connected right from the telephone networking center to the destination, which could be a location such as a home address or business office. Since each number is physically linked to one phone line, any calls made to that phone number will only go through this line, and reach that specific destination.
Any additional features such as forwarding, voicemail, call routing will have to be controlled by complex and expensive phone systems in the office known as PBX. Obviously, PBX systems are expensive and complex to set up and usually used only by bigger corporations
What is a Virtual Phone Number - How is it used?
Work and business - Any company located in one part of the world for example, in Japan, can now have a business phone number in San Francisco or Detroit without even paying for a fix foreign enabled phone line.
Call Centers - Companies with a customer support hotline can route calls to different call centers around the world, while making is appear to be from a one location, especially when they have to cover customers from different timezones or cases where 24/7 hotline is supported.
Individuals - Virtual numbers can help when travelling to save expensive  international calling rates. Foreign exchange students can also get a local number for their friends and family back home to reach them at a local number.
Virtual services – If you are a user of virtual business services, it is very common that these virtual services like a virtual address, virtual will use a virtual number to get the services to work together. This allows users of virtual services to have a phone, address and voice presence from almost anywhere in the world.
Where can I get a Virtual Mobile Phone Number?
If you are clear on what is a virtual phone number, you may be so excited to get one. The good news is getting a virtual phone number to use on your smartphone has never been easier. You can set up a virtual number through apps like Phoner Virtual Number App in a matter of minutes.
First, download the Phoner Virtual Phone Number app
Select a virtual phone number from over 30+ countries. To do this, tap on Menu -> Get Premium Number
You can see the list of options of countries that are offered in Phoner,
You can receive calls directly at this number in the app. Otherwise, you can also set up call forwarding to receive phone calls at your existing phone line.
To do that, you can tap on Number Settings and set Call Forwarding to ON
You can also set up a voicemail message in case you may be away from your phone
With that, you are all set to call and text any of your clients.
Conclusion: Get a virtual phone number instead of a new SIM Card
If you are a freelancer or entrepreneur, avoid buying a new phone and new SIM card just to talk to your clients, and avoid complex virtual phone number systems. Phoner offers virtual numbers through your mobile to have a professional phone number to your clients, cheaper and more effective way.