Food trucks are becoming increasingly popular as a quick and convenient way to grab a bite to eat on-the-go. However, with so many food trucks out there, it can be challenging to come up with a unique and catchy name that will make your food truck stand out from the rest. Here are some food truck name ideas to help inspire your creativity.
How to Create Your Food Truck's Brand Name
Creating a brand name for your food truck  involves a lot of creativity, research, and careful consideration. Here are some steps to follow when creating a brand name for your food truck business:

Identify your brand's personality: Your brand's personality and values will play a big role in creating a name. Ask yourself what makes your brand unique and what tone you want to set with your name.
Brainstorm: Start by listing down words and phrases that describe your brand. Consider the products or services you offer, your target audience, and your brand's values.
Use a name generator tool: There are many online tools that can generate name ideas based on keywords and themes. Use these tools to get inspiration and come up with ideas that you may not have thought of.
Check availability: Once you have a few potential names, check if they are available as a domain name, social media handle, and trademark. Avoid names that are already in use to prevent confusion and legal issues.
Test it out: Share your name ideas with family, friends, and your target audience. Get feedback on which names are most memorable, appealing, and fitting for your brand.
Refine and finalize: Based on feedback, refine your name ideas until you have a final name that represents your brand and is easy to remember.
Choosing the Best Names for Food Trucks

Embrace Your Name: Using your name as a brand name can help create a more personal and authentic connection with customers, as it reflects your personal identity and values. It can be as simple as using your first name, last name, or even your nickname. Adding your own name in your food truck's name certainly make them unique food truck names. Several examples include: "Luke's Lobster", "Annie's Apple Pies", "Macey's Milkshake"
Incorporate Puns: People enjoy feeling clever when they are able to decipher a pun. Clever food truck names are a fun way to add humor and creativity to your food truck business. Here are some punny food truck name ideas to tickle your brains: "Rollin' in Dough Van", "Crust in Time Pick Up", "Wrap it Up Truck".
Make use of Alliterations: Alliterative brand names are easier to remember because they create a rhythm or pattern that sticks in people's minds. Take "Betty Botter's Butter" and "Delightful Donuts", for instance.
Weave in Regions and Locations: Incorporating your region or city into your food truck name can create a sense of local pride and attract customers who are looking for a taste of the area. For example, "Boston Bites", "Seattle Street Eats", or "Texas Tacos".
Introduce Themes: If your food truck has a specific theme or specialty, incorporating that theme into your name can make it easy for customers to understand what you offer. For example, "The Cheese Truck", "Burger Bus", or "The Waffle Wagon".
Be Playful: Playful names can be a great way to convey the fun and relaxed atmosphere of a food truck. For example, "Nom Nom Truck", "Foodie Friends", or "The Hungry Hippie".
Food-Based Names: Using food-related words in your name can instantly convey what your food truck is all about. For example, "Tasty Tacos", "Savory Sandwiches", or "Sweet Treats".
Pop Culture Names: Pop culture references can be a fun way to make your food truck name memorable and relatable. For example, "The Rolling Scone", "Wok n' Roll", or "The Taco 'Bout It Truck".
Mash-Up Names: Combining two words together can create creative food truck names. For example, "Grillz n' Chillz", "Nacho Ordinary Food Truck", or "Fry Hard".
Remember, a great food truck name should be memorable, easy to pronounce, and convey what your food truck is all about. Take your time and get creative to come up with a name that will help your food truck stand out and attract loyal customers.
Food Truck Name Ideas for Your Business
To get your creative juices flowing as you craft your brand, we've listed some of the best names for food trucks that you can take inspiration from.
Catchy Food Truck Names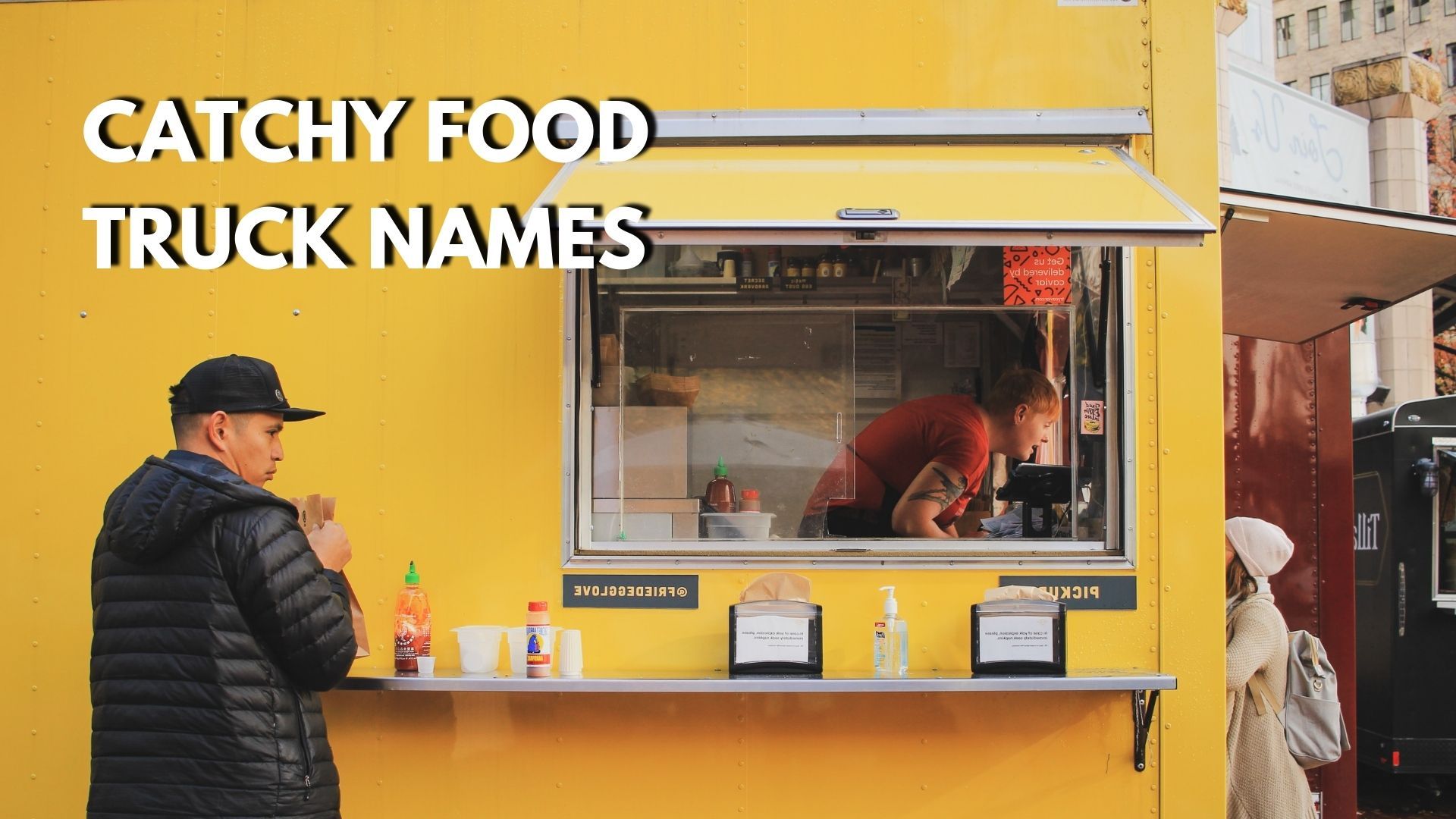 If you don't have a clue on what you'll be serving on your menu yet, here are some generic names for food truck business to kickstart your food truck journey.
Grub Hut
Foodie Frenzy
Mobile Grill
Rolling Chef
Juice Joint
Rolling Thunder
Wanderlust Wheels
Nomad's Nest
Road Trip Kitchen
Traveling Table
Roaming Restaurant
Mobile Cafe
Adventure Bites
Highway Hauler
Expedition Eats
Mile High Munchies
Drive-In Diner
Urban Explorer
Wild West Wagon
Explorer's Kitchen
Trailblazing Treats
Cruiser Cuisine
Foodie Fleet
On-the-Go Grub
Mobile Munchery
Wanderlust Kitchen
Food Explorer
Mobile Bite
Flavor To Go
Trailing Table
Street Cuisine
Traveling Tray
On-the-Move Meal
Culinary Cruiser
Roadside Restaurant
Mobile Galley
Gypsy Kitchen
Highway Hunger
Nomadic Nosh
Roaming Range
Food Truck Express
Mobile Kitchenette
On The Way Range
Street Serenade
On-the-Move Menu
Tasty Travels
Flavor Mobile
Touring Table
Mobile Bistro
Foodie On Wheels
Roadside Refreshments
Hopping Diner
Mobile Munchies
Culinary Caboose
Traveling Tastebuds
Nomad's Nibble
Roaming Rendezvous
Mobile Mess Hall
Foodie Flux
Traveling Taste
Ready Refuel
On-the-Go Goodness
Tasty Trailblazer
Mobile Cuisine Cruiser
Street Snacks
Wanderlust Wok
Mobile Morsel
Flavor Factory
Rolling Restaurant
Foodie Fiesta
Roadside Rendezvous
Mobile Mingle
Traveling Taste Test
Nomad's Nourishment
Roaming Refreshments
Culinary Conveyance
On-the-Move Jaunt
Tasty Trolley
Flavor Flair
Rolling Refreshments
Mobile Meals
Foodie Flyer
Roadside Repast
Traveling Treats
Nomad's Nosh-Up
Breakfast Food Truck Names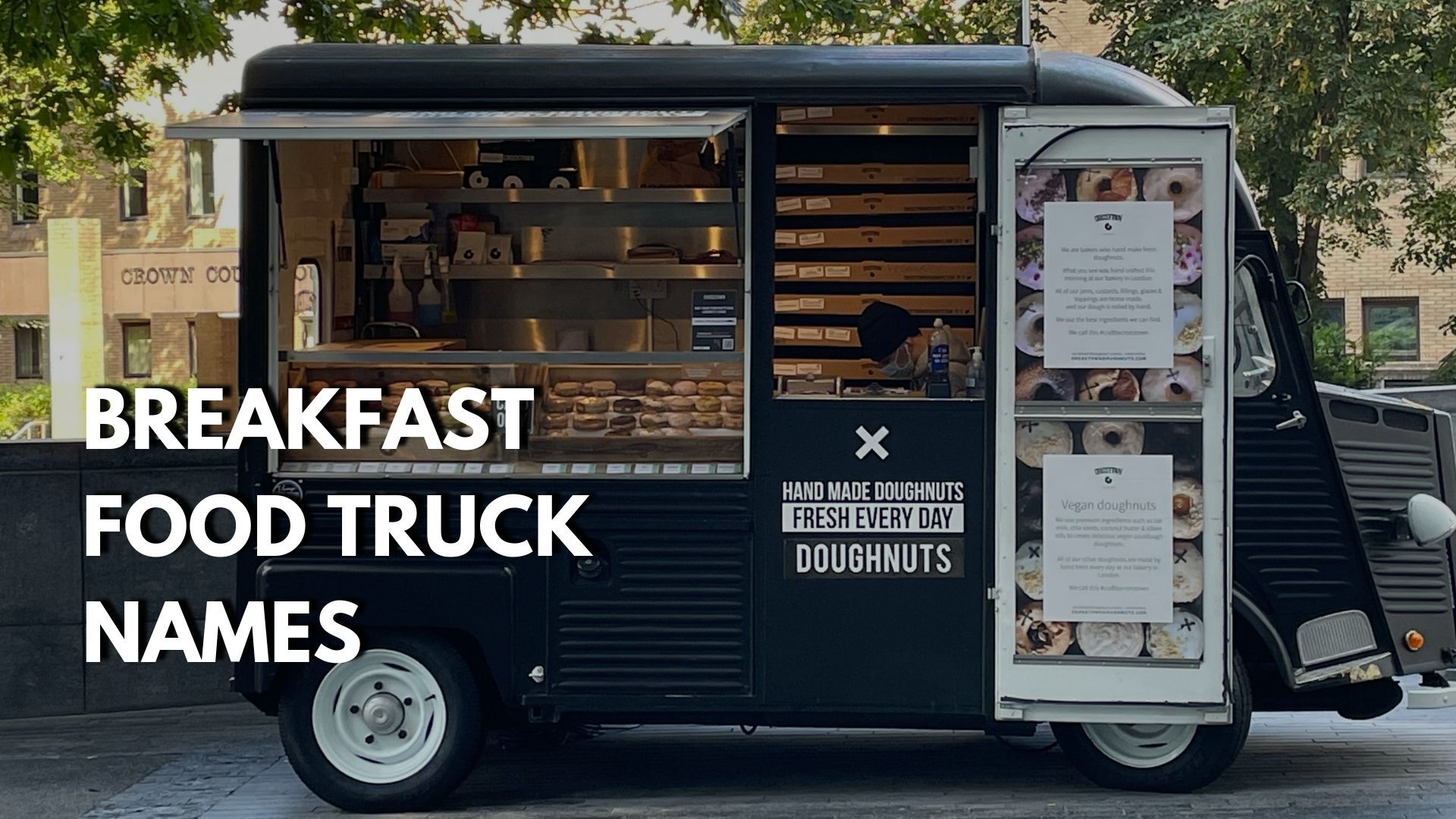 When naming a breakfast food truck, consider using puns or alliterations with breakfast-related words. Incorporating the theme of mornings, such as sunrise or coffee, can also add to the name's appeal. Think of descriptive words that evoke a warm and comforting feeling associated with breakfast, like "fluffy," "hearty," or "homestyle." Here are more food truck business name ideas if you're serving breakfast.
Rise & Shine Truck
The Breakfast Brigade
The Sunny Side Up Truck
Early Bird Eats
The Omelet Oasis
Pancake Paradise
Waffle Wonderland
Breakfast Bonanza
The Breakfast Barn
Biscuit Boss
The Croissant Cruiser
Bagel Bistro
Cereal Central
Muffin Mania
The Breakfast Burrito Bus
French Toast Fantasy
Yogurt Yumminess
Acai Bowl Avenue
Granola Galore
The Juice Joint
Smoothie Station
The Coffee Cart
The Espresso Express
Tea Time Truck
The Bacon Brigade
Sausage Shack
Ham Hauler
The Breakfast Brunch
Breakfast Bites
Hashbrown Haven
Toast Time Truck
Quiche Cruiser
Egg-cellent Eats
Crepe Craze
Breakfast Bakery
Cinnamon Roll Cart
Breakfast BLT
Bagel Boat
Egg-Straordinary Truck
Frittata Factory
Crepe Cart
Donut Van
Brioche Brigade
Breakfast Club
Breakfast Buffet
Breakfast Buzz
Brunch Box
Oatmeal Oasis
Porridge Parade
Sweet & Savory Truck
Breakfast Scone
Biscuit Bus
Breakfast Beat
Cereal Killer
Breakfast Baguette
Danish Delight
Quinoa Queen
Hashbrown Hero
Breakfast of Champions
Breakfast Bowl
Breakfast Booster
Bacon & Egg Bus
Pancake Party
Waffle Wagon
Cinnamon Toast Crunch Cart
Egghead Truck
Breakfast Bonnet
Toasted Truck
Breakfast Baker
Muffin Maven
Breakfast Banquet
Breakfast Bonfire
Morning Munchies
Rise & Dine Truck
Morning Glory
Caffeine Cruiser
Sunrise Snack Shack
Breakfast Brisket
Breakfast Bite
Sausage Sizzle
Breakfast Bite-Size
Breakfast Bliss
Breakfast Bitesize
Breakfast Boost
Breakfast Bounce
Breakfast Buzzword
Breakfast Bistro
Breakfast Breeze
Breakfast Buff
Breakfast Burn
Breakfast Business
Breakfast Biscuit
Breakfast Boogie
Breakfast Bounty
Breakfast Brigadeer
Breakfast Buffoon
Breakfast Bullseye
Breakfast Boss
Breakfast Busters
Breakfast Brisk
Italian Food Truck Names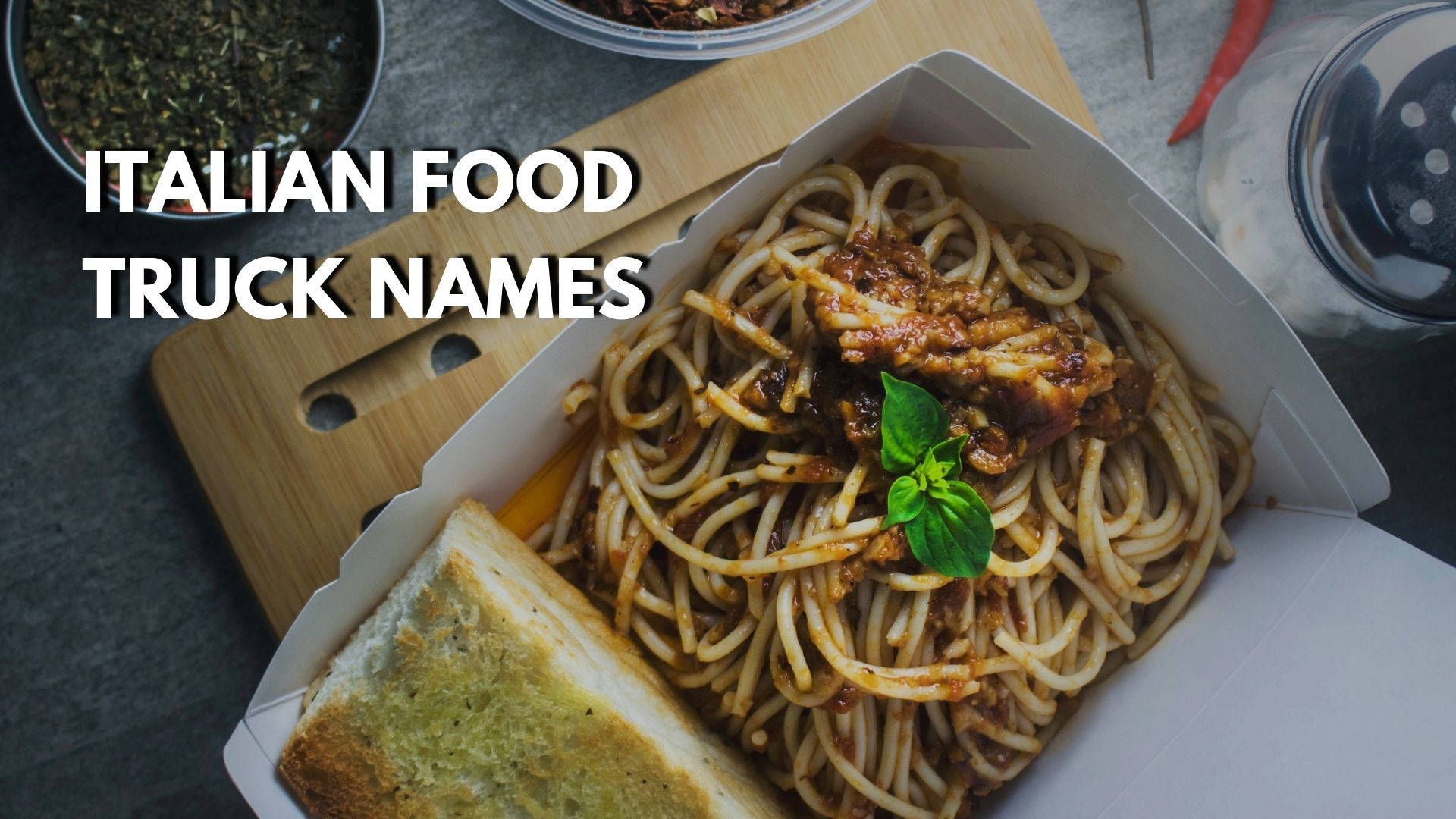 To come up with a fitting name for an Italian food truck, one can consider using vocabulary that brings out the culture and cuisine of Italy. Such terms as "pasta," "pizza," "bella," and "ciao" are some examples. It is also possible to incorporate the names of renowned Italian cities, such as Florence or Rome, to make the name more attractive. Additionally, descriptive words such as "savory," "aromatic," or "zesty" can be used to conjure up the richness and flavor of Italian food. Check the following list of Italian Food Truck Names.
Ciao Bella
Mangia Italiano
Pasta Mobile
Gnocchi Truck
Mama's Meatballs
Pizza Paradiso
Trattoria on Wheels
Ravioli Wagon
Cannoli Cart
Buon Appetito
Lasagna Lounge
Calzone Cruiser
Fettuccine Factory
Parmigiana Palace
Caprese Coach
Antipasto Truck
Olive Oil Oasis
Pesto Peddler
Bruschetta Bus
Mozzarella Mobile
Prosciutto Palace
Linguine Lane
Risotto Ride
Sausage Slinger
Polenta Pantry
Spaghetti Sprinter
Espresso Express
Cappuccino Cruiser
Tiramisu Truck
Gelato Gondola
Sorbet Scooter
Cannoli Cruiser
Nutella Nook
Espresso Elixir
Caffeine Cruiser
Italian Stallion
Margherita Mobile
Pesto Palace
Olive Oil Outlet
Caprese Cart
Bolognese Bus
Carbonara Coach
Alfredo Auto
Marinara Machine
Gorgonzola Go-Getter
Parmesan Pumper
Romano Ride
Asiago Automobile
Ricotta Racer
Fontina Frenzy
Mascarpone Mobile
Ziti Zinger
Penne Peddler
Farfalle Fleet
Rigatoni Roadster
Gnocchi Getter
Cannelloni Cruiser
Manicotti Mobile
Cavatelli Coach
Fusilli Frenzy
Spaghetti Station
Linguine Locomotive
Tagliatelle Truck
Pappardelle Pumper
Lasagna Limo
Cannoli Cab
Tiramisu Taxi
Gelato Getter
Sorbet Scoop
Nutella Nibbler
Espresso Enthusiast
Cappuccino Connoisseur
Italian Ice Mobile
Affogato Auto
Biscotti Bus
Bruschetta Brigade
Panini Patrol
Italiano Investigator
Focaccia Fleet
Crostini Cruiser
Minestrone Machine
Zuppa Zoomer
Tuscan Tour
Umbrian Wagon
Venetian Van
Florentine Foodie
Neapolitan Nomad
Sicilian Sprinter
Milanese Mobile
Roman Racer
Calabrian Cruiser
Sardinian Stallion
Apulian Automobile
Ligurian Locomotive
Abruzzese Auto
Emilian Express
Piedmontese Pedd
Burger Food Truck Names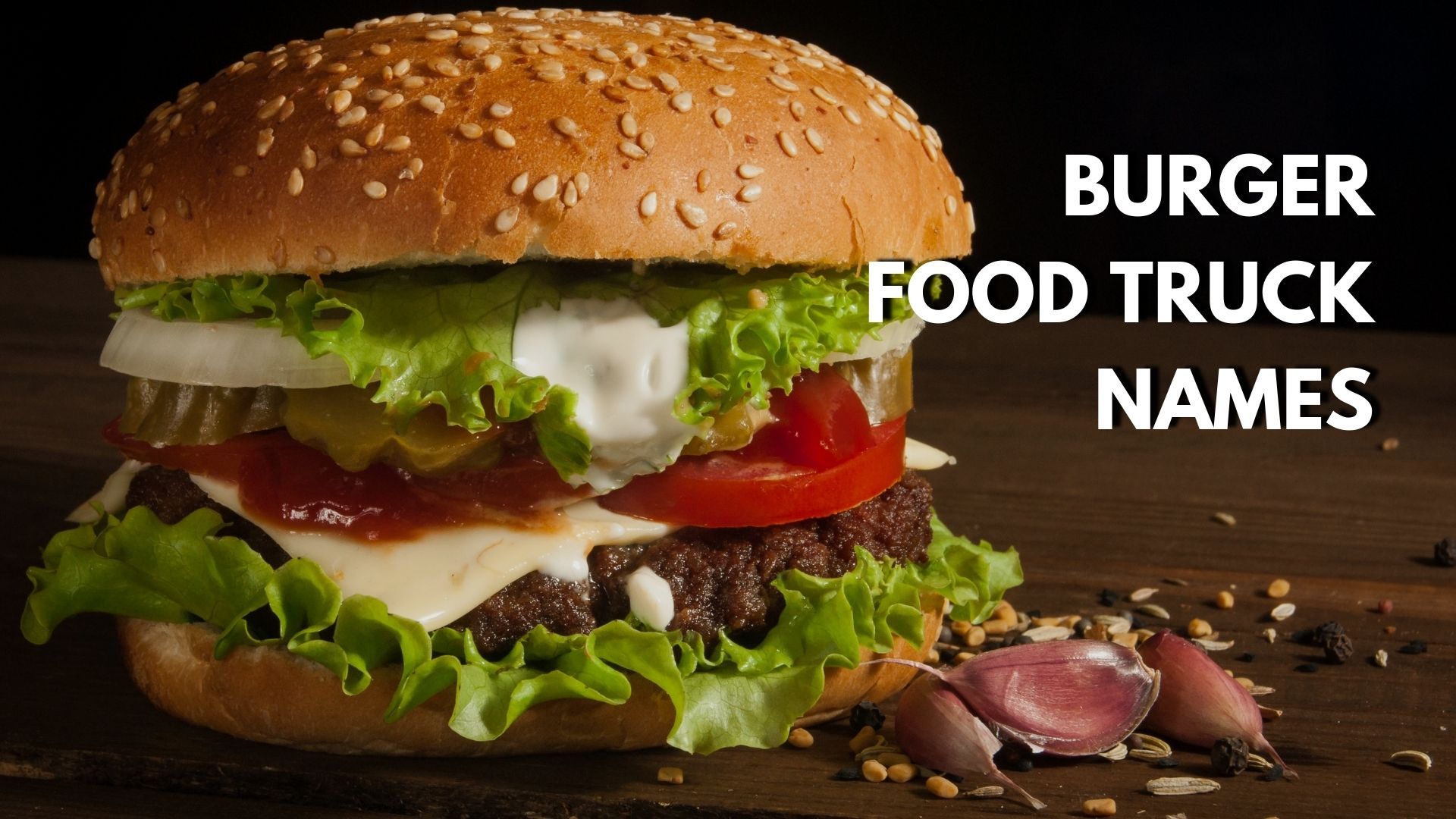 When naming a food truck that specializes in burgers, it's important to choose words that awaken the senses and make people crave a delicious, juicy burger. Words like "sizzle," "juicy," "tasty," or "flame-grilled" can do just that. Another approach is to use puns that relate to burgers or toppings. Additionally, including words associated with American culture such as "hometown," "classic," or "all-American," can make for an unforgettable and catchy name for burger food truck names. We gather some creative food truck names for your roaming burger food truck.
Burger Boss
Beefy Bites
Patty Wagon
Bun & Grill
Juicy Burgers
Burger Joint
Burger Bistro
Grilled to Perfection
Big Bite Burgers
Burger Co.
Burger Time
Smash Burger
Burger Lab
Burger Bus
Burger Pit
Burger Station
Burger Brigade
Burger Factory
Burger Bliss
Burger Express
Burger Place
Burger Shack
Burger Spot
Burger Stand
Burger Truck Co.
Burger Vault
Classic Burger Co.
Gourmet Burger Co.
Honest Burger Co.
Burger Emporium
Burger Garage
Burger Grill
Burger House
Burger Institute
Burger Palace
Burger Parlor
Burger Press
Burger Project
Burger Society
Burger Stop
Burger Street
Cheeseburger Co.
Classic Burger Joint
Dirty Burger Co.
Famous Burger Co.
Fire-Grilled Burger Co.
Flame-Grilled Burger Co.
Gourmet Burger Truck
Great Burger Co.
Grill Master Burger Co.
Grilled Burger Co.
House of Burgers
Lean Burger Co.
Meaty Burger Co.
Mighty Burger Co.
Perfect Burger Co.
Savory Burger Co.
Smokin' Burger Co.
Ultimate Burger Co.
Veggie Burger Co.
Burger Bandit
Burger Battle
Burger Beast
Burger Brothers
Burger Cartel
Burger Crusade
Burger Guru
Burger Hustle
Burger Knights
Burger Squad
Burger Warriors
Burger Commanders
Burger Crusaders
Burger Elite
Burger Kings
Burger Legion
Burger Revolution
Burger Battalion
Burger Command
Burger Connoisseur
Burger Drift
Burger Fighters
Burger Fury
Burger Mafia
Burger Ninjas
Burger Pirates
Burger Rebels
Burger Republic
Burger Syndicate
Burger Vagabonds
Burger Wizards
Burger Zone
Double Burger Co.
Taco Food Truck Names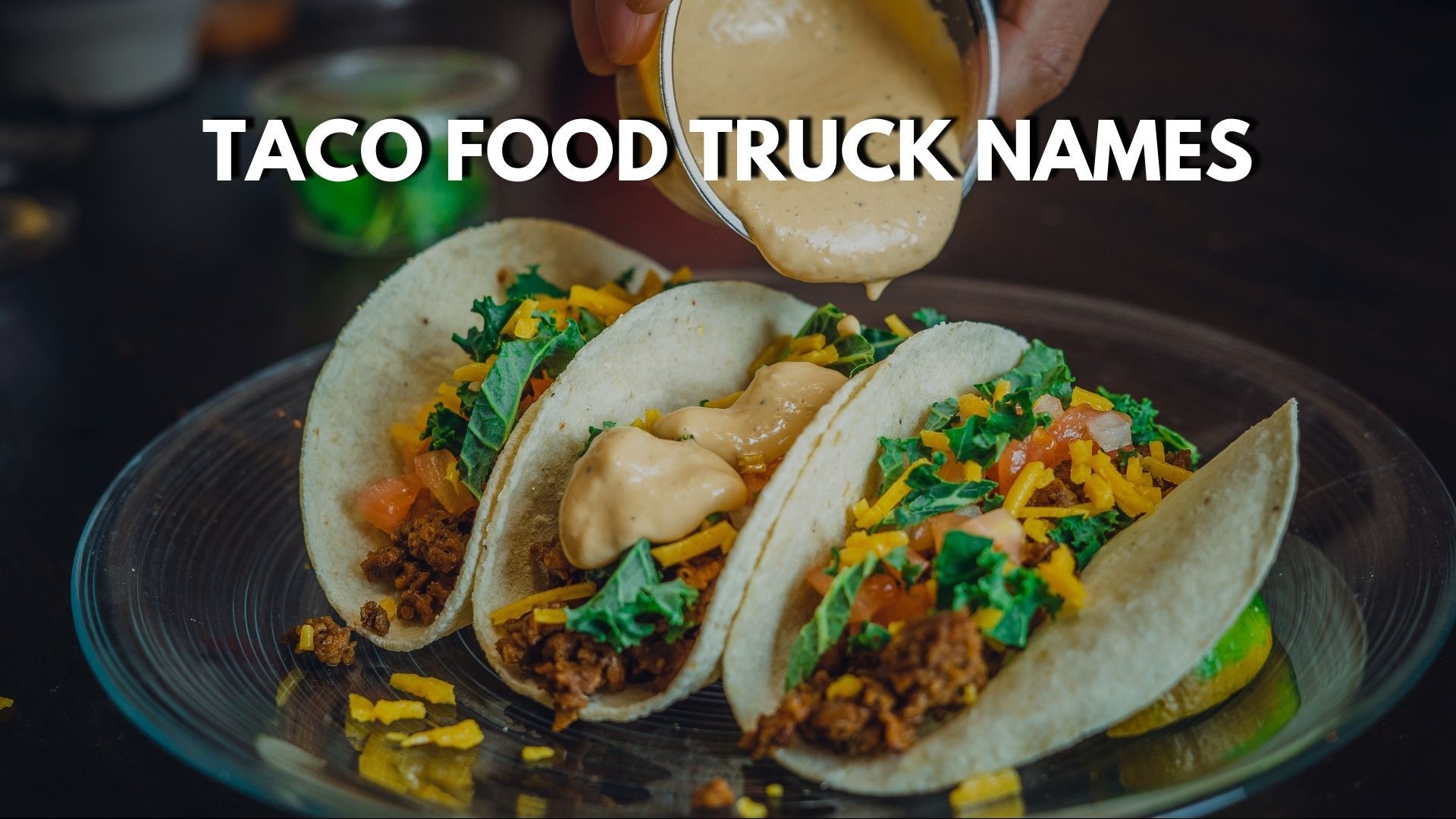 To entice customers to eat at your taco food truck, it's important to evoke a sense of Mexico's culture and cuisine. Including words such as "amigo," "fiesta," "tequila," or "salsa" can achieve that connection easily. To make your taco food truck names even more memorable, you can consider including the names of famous Mexican cities like Tijuana or Guadalajara as well.
The Taco Stop
Tacos To Go
Taco Topia
Taco Loco
Taco Zone
Taco Express
Taco Delight
Taco Heaven
Taco Party
Taco Fiesta
Taco Time
Taco Twist
Taco Street
Taco Gringo
Taco Palooza
Taco Universe
Tijuana Tacos
Guadalajara Grill
Puebla's Tacos
Oaxaca's Finest
Acapulco's Tacos
Cancun's Taqueria
Mazatlan's Tacos
Puerto Vallarta's Tacos
Ensenada's Taco Truck
Juarez's Tacos
Morelia's Taco Bar
Monterrey's Taco House
Veracruz's Taco Shack
Leon's Tacos
Chihuahua's Tacos
Merida's Tacos
Queretaro's Tacos
San Miguel's Taqueria
Zacatecas's Tacos
Cuernavaca's Taco Cart
Salsa Sensations
Guacamole Grill
Chipotle Choice
Queso Quest
Carnitas Carnival
Al Pastor Avenue
Barbacoa Boulevard
Pico de Gallo Parade
Lime Loco
Jalapeno Junction
Seafood Food Truck Names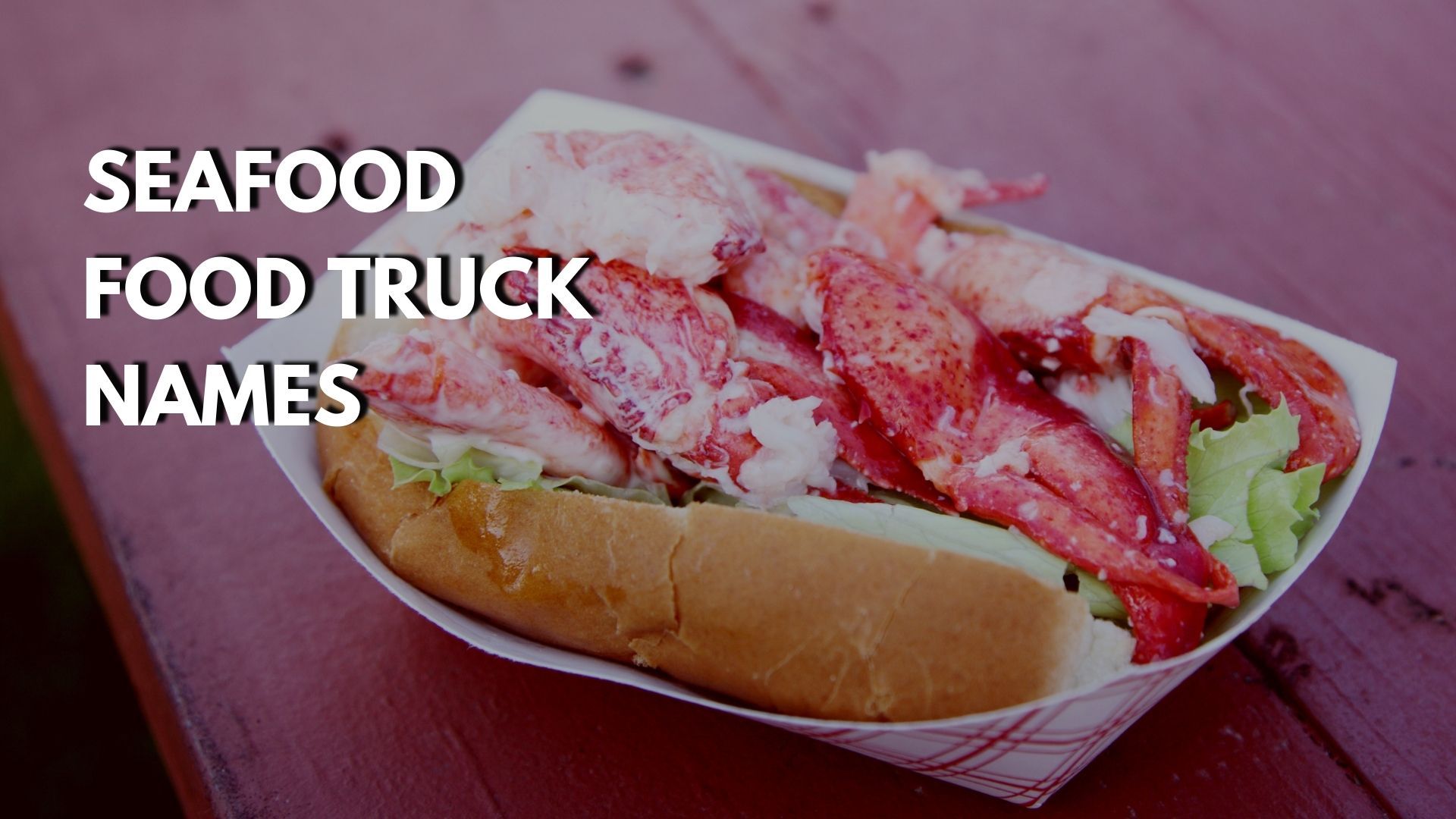 Seafood has a unique and distinct flavor that is unlike any other type of food, making it a popular choice for food lovers. Making use of words or phrases that evoke a sense of freshness, quality, and oceanic vibes, such as "catch," "ocean," "fresh," or "bounty." can help to make your food truck name sound pleasing to seafood lovers. Famous fishing locations, such as Cape Cod or the Gulf of Mexico, are also particularly associated with seafood joints and restaurants. Browse any of the seafood food truck names below to get a sense of names for your food truck business.
The Catch of the Day
The Lobster Shack
Fisherman's Delight
Seafood Sensation
The Crab Shack
Shrimp & Grits
Ocean Blue
The Clam Bake
Sea Salt & Vinegar
The Oyster Bar
The Seafood Market
Crabby Patty
Seaside Snacks
The Fish Fry
Siren's Song
The Fisherman's Wife
The Shrimp Boat
Coastal Catch
Seafood Galore
Neptune's Net
The Fish Monger
Saltwater Kitchen
Catch N' Cook
The Seafood Station
Sea Breeze
Seafood Paradise
Seafood Haven
The Fish House
Lobster Love
The Octopus's Garden
The Oyster Shack
Seashell Seafood
Shellfish Station
Seafood Serenity
The Tuna Boat
Oceanic Delight
The Shrimp Basket
Catch of the Bay
The Clam Chowder Cart
Seafood Safari
Fish & Chips
Seaside Delight
The Crab Claw
The Oyster Pearl
Fresh Fish Frenzy
The Scallop Shell
Crab Roll Corner
The Fish Taco Truck
Coastal Cuisine
The Shrimp Scampi
Ocean Fresh
The Seabreeze Café
The Seafood Stand
Seafood Central
Seafood So Good
The Fish Market
The Shrimp Roll
Lobster Land
Seafood Spot
The Clam Cart
The Crabby Shack
Fish House Fry
The Oyster Oasis
The Seaside Grill
Fresh Catch Café
Seafood City
Ocean's Bounty
The Shrimp Pit
The Seaworthy
Seafood Central
Crab Shack Grill
Seafood Junction
Seaside Seafood
Coastal Kitchen
The Oyster Outpost
The Fish House Grill
Fisherman's Catch
The Clam Shack
The Seafood Stop
Seaside Sizzle
Lobster Lagoon
Seafood Satisfaction
The Shrimp Stop
Oceanic Flavor
The Seabird's Nest
The Seafood Siren
Seafood Station Café
Seafood Central
Catch 22 Seafood
The Fish Fryer
The Shrimp Spot
Seashore Seafood
The Oyster Cove
The Lobster Trap
Seaside Savor
The Crabby Catch
The Scallop House
The Shrimp House
Coastal Cravings
Seafood Dreams
Conclusion
Remember, a brand name is a crucial part of your brand's identity, and it's important to take your time and make sure you get it right. A well-chosen name can help your brand stand out, be memorable, and connect with your target audience. If you're stuck at food truck name ideas, you can always come back to this list for more inspiration.
Apart from having a good brand name, keeping in touch with your customers and vendors is crucial. Having a business phone number is one of the best ways to communicate while you're on the go. Customers may want to place orders or inquire about your location, while vendors can use it to contact you for events and catering. Having a phone number also adds a level of professionalism to your business and makes it easier for people to reach you, especially in the age of smartphones. Try out a VoIP mobile application like Phoner, where you can easily get a second phone number for your food truck business.