Is Food delivery privacy a thing? How big is food delivery in the US? In 2015, food delivery spend in the US was a combined total of about 30 billion US Dollars, with about more than a tenth of it or about four billion US Dollars attributed to online food delivery revenue.
Food delivery has always been a favorite food choice with US consumers as in a November 2016 survey 20 percent of people surveyed have ordered something using food delivery at least once a week.
If you have ordered food delivery before, chances are you have given some thought into Food delivery privacy. It is not unusual to be worried about what delivery man or people could do to you since they know where you live, have seen what you look like, and even have your actual personal phone number.
Has Food delivery privacy ever become an issue in the news? Has a delivery man ever done anything to intrude a customer's privacy, or to put a customer in danger? You will be surprised to find out how often something can say "A food delivery man texted me". See below for 3 cases that happened in real life regarding food delivery privacy.
Case 1:  Just Eat food delivery man harasses girl
Michelle Midwinter ordered food delivery from Just Eat, a popular food delivery service, and was harassed by a creepy delivery man.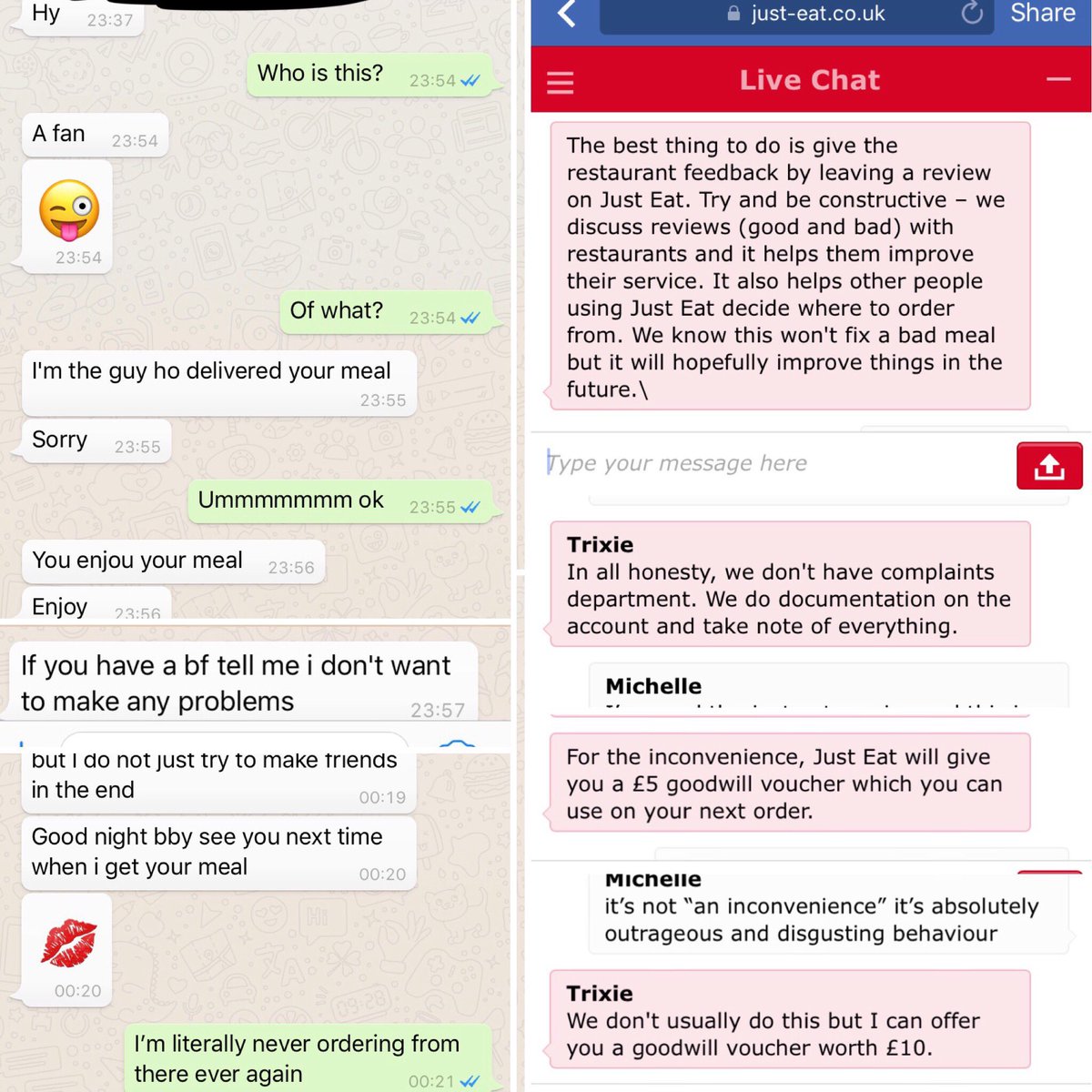 She has taken the story online on Twitter which she said: "Just a snippet of Just Eat's response to my receiving unsolicited messages from the guy who had just delivered my food. Nice one Just Eat!  Apart from him using my number in this way surely being in breach of privacy laws etc, they don't really seem to take it seriously do they??"
In a press release, Midwinter gave an account of how the delivery man's behavior was rather unusual when he reached her doorstep. She said, "the delivery driver was not friendly, or polite. He just looked at me and slowly handed me the food. I thought it was a bit odd, and commented to my friend that he seemed angry." After leaving, the delivery man began to text her in an inappropriate way.
Case 2:  Domino's Food delivery man texted me: 'I Delivered Yo Pizza Seen You Was Fine'
Another girl, Michelle (real name hidden for privacy reasons) from Stone Mountain, Georgia, had went online and ordered a Domino's pizza, which got delivered and she received.
While she was eating her Domino's Pizza she received harassment message from an unknown person who signed off as "$Bands$".
The first message read: "Did you have pizza today." When Michelle replied to ask who $Bands$ was, he simply replied with "Guess", and "I delivered yo pizza seen you was fine and wanted to holla at you."
After Michelle questioned him where he managed to get hold of her number, he said "The caller id," this time, she realized that she did not call in and had placed her order online and left her real number. "You got my number from your job?" she asked. "Yea can you forgive me i should of just asked," he texted. "You was looking good so i just wanted to see whats up"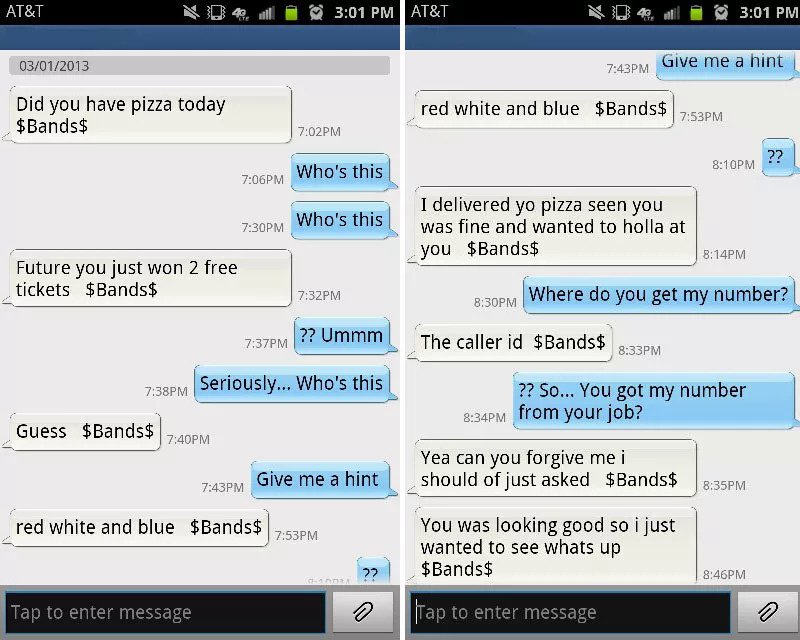 Case 3: Girl on Reddit accounts her experience with Indian food delivery man
samchesben on Reddit accounts her story on how she got harassed repeatedly by an indian food delivery man.

In her words: "Hi, I'm not exactly sure where I should post this but....I'm a girl in my 20s who lives by myself... I got a text yesterday from someone asking what I like to do.. I responded in jest and said who is this (figured it was a friend). Turns out it's this guy who said he delivered Indian food to me a month ago and who "hasn't forgotten me" I stopped responding but he's still texting .. Is there anything I should do here??? I don't want to be rude because he could/does know my name number and where I live......"
The replies she received are generally positive and helpful, like the following.
"It gets way creepier than this, but yep."
"I would file a complaint at the restaurant where he works. It is extremely inappropriate for a delivery person to be using your personal information in this way."
"Do everything you can. It sucks that he is a creep and you have to do extra work, but this is just bad."
How to let delivery man not intrude your privacy?
There are ways that you can protect your privacy and reduce the likelihood of receiving harassment by food delivery man.
1. Add a special note to leave it somewhere else
You could live a note under "Special requests" when ordering online food delivery and have the food item left on your front porch or another part of your house without getting in contact with the actual food delivery man. That way, he might not get to see what you look like or get a chance to interact or talk to you.
2. Use a another address combined with special note
Another way to protect your privacy it to have the food item delivered to another address other than your home, such as an office address or another prominent building near to where you live. Then, combine it with a note under "Special requests" and request the food item to be left there.
That way, you will also not need to talk to the delivery man or allow him to see what you look like.
3. Use a second phone number
We are saving the best for last. The best and most secure thing you can do for yourself is to use a second phone number when ordering food delivery instead of your personal phone number.
Second phone numbers shield and protect your real phone number. Even if a person can call or text you, this will go to the second phone number that can be easily disposed of changed. Second phone numbers would be our recommendation to avoid food delivery privacy issues.
Download Phoner app for second phone numbers
To get disposable second phone numbers easily directly on your smartphone, check out Phoner 2nd phone number app.
Phoner is a one of the most cost effective way and quick way to get a second phone number. Furthermore you pay for credits to send and receive text and call only when you need, which means that you only need it in that rare moment when ordering food delivery and want to protect your personal identity and safety.
See Phoner App for iOS, or Phoner App for Android, or Phoner Web Messenger for food delivery privacy today.