With Apple having already introduced dual-SIM support since the iPhone XS and iPhone XS Max, asking can you have two phone numbers on one iPhone might seem like begging the obvious.
The short answer? Yes, you can. Having two numbers on one iPhone is as easy as getting two SIM cards in one iPhone.  The catch here is that back in 2018, all iPhone models came with one nano-SIM card slot and an embedded SIM (or e-SIM for short).
But having two SIM cards in one iPhone running iOS 13 with dual SIM can cause problems too.
Can you have two phone numbers on one iPhone without having two SIM cards in one iPhone? Before we go into the details, let's take a look at some reasons why you'd want to have two numbers on one iPhone first.
Why you would want two numbers on one iPhone
Reason 1:  It's a convenient way to keep your work and personal contacts separate
A big reason why lots of people are going for dual SIM cell phones nowadays is because it literally separates work from personal life. Having a separate phone just for work can be troublesome, especially if your job requires you to move around a lot.
With two numbers on one iPhone, you get the benefits of a separate phone for work without the inconvenience of having to carry around another cell phone.
Reason 2: You need a separate phone number for your business
Having customers make enquiries through your personal phone number can come across as unprofessional, and you'll want to set aside a second phone number exclusively for your customers to contact you on.
There might also be times where you'll want to advertise your services in online forums, marketplaces or social media. Rather than risk your mobile privacy and security by using your primary phone number, you can use a second phone number instead.
Reason 3: You are dating online and want to play it safe.
Just starting out and not sure if your date is yours truly or a crazy stalker? Stay safe by giving out a second phone number instead. This phone number can be temporary and anonymous, keeping you safe in case your perfect date takes a nasty turn.
There are many more reasons why you'd want two numbers on one iPhone (or even more), but ultimately, it's about convenience, privacy and a peace of mind.
Can you have two phone numbers on one iPhone?
Solution 1: Just get two SIM cards on one iPhone
Simply getting two SIM cards in one iPhone is an obvious way to have two phone numbers on one iPhone, but as we said earlier there are some problems that make it more troublesome than it's worth.
In 2018, it was revealed that the new dual-Sim functionality Apple built into the iPhone XS, XS max and XR failed to deliver 4G or even 3G speeds. Dual SIM iPhone users had to often contend with sluggish 2G. Dual SIM issues with mobile data and WiFi connection continued to persist even with the later iPhone 11 model, which randomly disconnected from data connections in dual SIM mode.
If you're also using an Apple watch, having multiple phone numbers in your iPhone can also cause your Apple Watch to malfunction.
Because there are two SIM cards and you cannot toggle between them on the fly, you'll need to keep going back and forth to check for calls and messages.
Then there's the issue of accidentally mixing up work and personal contacts, Because iOS only saves contacts to your primary Apple ID, changing or editing contacts quickly isn't possible.
Solution 2: Purchase a second line or multiple phone number service from your telco
Some major mobile carriers like T-mobile and Verizon  have their own second line plans for anyone looking to have two numbers on one iPhone.
In 2018, Verizon relased the My Numbers App on both the Google Play and Apple Store.This app allows you to add up to 4 additional phone numbers to your cell phone, with an additional 15 dollars a month per number. T-mobile launched a similar app called Digits way back in 2016 which allowed customers to use up to 5 phone numbers on their mobile device.
Some Mobile Virtual Network Operators,like Mast Mobile, also offer more seamlines dual phone number plans. Mast Mobile, for example, allows you to switch between two cell phone lines without having to swap SIM cards or forward calls.
These plans are often expensive, and from customer reviews it seems that cost is the least of your worries. Verizon's My Numbers has many instances of customers getting double-charged,  and T-Mobile's Digits isn't faring much better with problematic rests, lost messages and frequently dropped calls.
Solution 3: Use a VoIP provider like WhatsApp or Telegram
Most of us are already familiar with WhatsApp and Telegram. Both of them are Voice-over-Internet-Protocol  (VoIP) providers that allow you to send messages and make calls via the internet instead of phone lines.
Technically speaking, using a VoIP provider to make calls and send messages isn't the same thing as having two numbers on one iPhone. With VoIP providers, you're relying on cellular data and wifi calling instead of regular phone lines. But both get the job done.
The biggest problem with VoIP providers is online privacy and security. Because they rely on the internet rather than phone lines to transmit communication, anything you send or receive through a VoIP provider poses a bigger privacy and security risk to you.
WhatsApp is certainly no stranger to privacy scandals. While Telegram sports its' proprietary algorithm, there are doubts over whether it's truly as secure as they say it is.
BEST Solution: Get as many phone numbers as you like with Phoner.
Nobody's comfortable with software glitches, wonky apps and privacy scares. Instead of waiting for Apple to finally fix the issue with a software patch or take a chance with shady VoIP providers, we recommend getting two phone numbers on your iPhone and more with Phoner.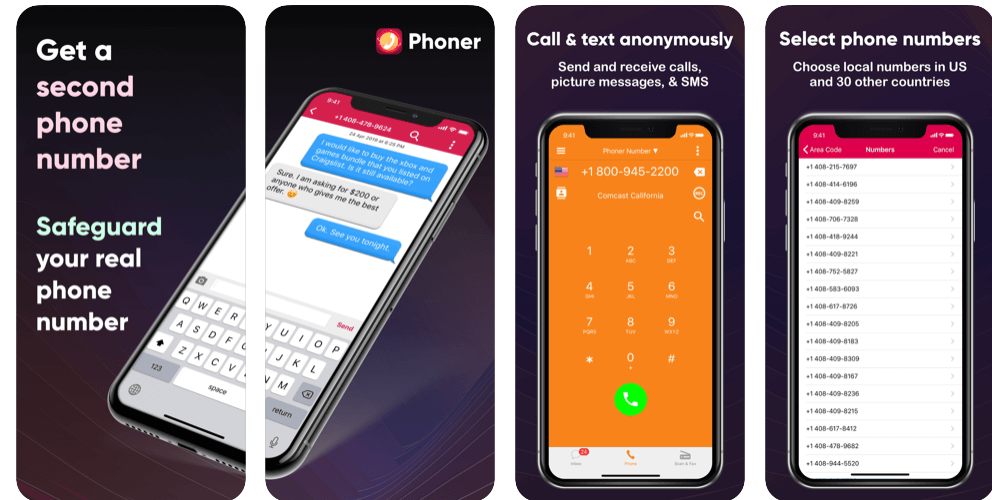 Whether you plan to rely on the iPhone's dual Sim feature, VoIP providers or second phone line plans from your mobile carrier, you'll only have a limited number of phone numbers.  With Phoner however, you have access to unlimited phone numbers you can use immediately without needing to get a second SIM card.
Phoner also reliably sends and receives calls and messages. It acts and works just like your regular phone number, so you can still use your numbers without mobile data or a WiFi connection.
Can you have two phone numbers on one iPhone? Yes, and Phoner Is just the solution for you. You don't need two SIM cards in one iPhone to have two numbers on one iPhone. With Phoner, simply get credits, get as many phone numbers as you like or need, and get started making calls and sending messages without cellular data or WiFi calling.
So that's our answer to the question: Can you have two phone numbers on one iPhone? Move aside two SIM cards in one iPhone – all you need is Phoner.