Buying a virtual number for receiving and sending SMS is super easy with the introduction of virtual phone number Apps like Phoner - Second Phone Number. Virtual phone numbers you buy can be either local, mobile, international numbers, and they will work to receive SMS and even MMS (if you need to receive images and other media).
Forget about buying another SIM-card or to use complicated virtual number software or hardware solutions, you can use Phoner to buy a virtual number for SMS within seconds.

How to buy virtual number for SMS:
Download virtual phone number service Phoner - Second Phone Number
No registration is required.
Enter the number you want to send SMS
Type the message and press send using your free credits
How to receive SMS via virtual number for incoming messages?
Receiving SMS at your virtual number is simple. After you have sent the first text message, your contact or recipient will be able to see a randomized number to text you back at. This is your own virtual number the person can contact you at.
When you receive an incoming SMS at your virtual number:
Notification comes in to Phoner app
Tap on notification
You will be brought to message inbox
Read the message or SMS sent to your virtual number
Benefits and pros of virtual telephone numbers for SMS
NO usage of SIM-cards or other equipment
Cheap local rates for sending SMS text
Quick and fast selection of virtual numbers in the app
Free trial is offered
SMS are delivered immediately to destination you pick
Send and receive as many number of SMS with credits
All possible countries for using this VoIP service
Possibility to get additional phone numbers in your account
Be accessible everywhere in the world
Buy virtual phone number for International SMS
With virtual phone numbers, your physical location does not mean anything, because you can be in any country and city and use this service. If you have a friend or relative abroad, and it's inconvenient to make calls, you can now send and receive SMS at local rates of any receiving country.
Our service coverage is worldwide, so you can be travelling between borders and virtual numbers will continue to work for SMS. Depending on the country, calls may be even supported, and you can even set  up call forwarding to another mobile or landline number.
Countries coverage for virtual phone SMS numbers
Over 1500+ virtual numbers in US
Over 1400+ virtual numbers in UK
Over 1400+ virtual numbers in Canada  
Over 600+ virtual numbers in Australia
Over 600+ virtual numbers in Belgium
Over 500+ virtual numbers in Brazil
Over 500+ virtual numbers in Israel
Over 500+ virtual numbers in Sweden
And many more in these countries: Bulgaria, Chile, Cyprus, Finland, Croatia, Iceland, Malta, Panama, Peru. Philippines etc.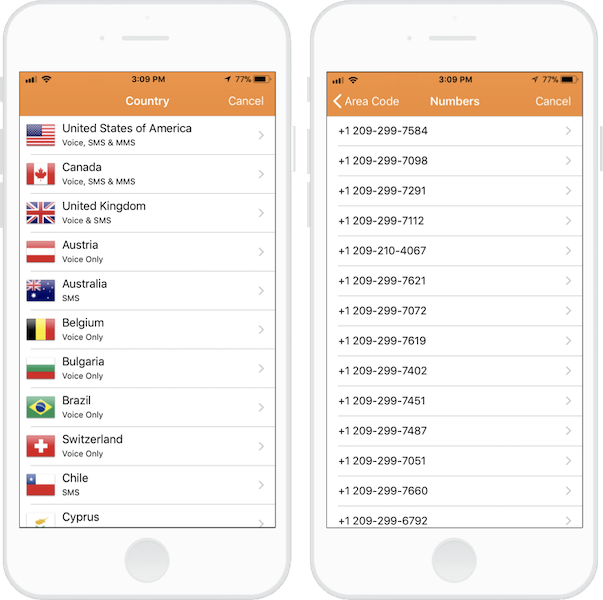 How much does virtual number for SMS messaging cost?
When you texting another local number, you pay cheaper than local rates through credits.
Here how many credit it takes to send a SMS to each of these countries using a virtual number:
United States of America: 22 credits to send and receive SMS
Canada: 45 credits to send and receive SMS
United Kingdom: 45 credits to send and receive SMS
Australia: 66 credits to send and receive SMS
China: 34 credits to send and receive SMS
India: 12 credits to send and receive SMS
When people text you, they just pay their normal texting costs – there are no additional fees.
Why virtual number for SMS are great for work and business
With Phoner you can have your own local phone number in any city or country worldwide. You can pick any area code that you want. Showing a local number to visitors at your web site increases trust and sales.
If you dislike managing two numbers at the same time, you can even set up call forwarding to direct all calls at your virtual number to your personal number.
Why buy virtual number for SMS verification
Another big use case for virtual numbers is to use for receiving SMS verification coeds when you sign up on a website or an app.
Using your real phone numbers have implications that users are generally unaware of. For example, your real phone number could be added to a calling list for marketers and spam callers.
How to buy virtual phone number to receive SMS?
Phoner is a one of the most convenient and cost effective way of buying a virtual number for SMS online, since you pay for credits to send and receive SMS and call only when you need it, as compared to maintaining a separate postpaid line with mobile carriers.
See Phoner App for iOS, or Phoner App for Android, or Phoner Web Messenger.