How do I get a Google Phone Number? What is this thing called Google Voice that I am reading about?
Here is a helpful tip for anyone who prefer a local phone number but are still using one from your motherland, or far away town: Stop using your old phone number and area code from another part of the country! Google Voice gives you a free cell phone number that you can use as your own in your current local area. In this article we will help to answer the popular question "How do I get a Google phone number?".
Getting Google Phone Numbers
Google phone numbers are a great tool for anyone from professionals to business owners. It works extremely well for anyone to acquire a new phone number or sideline to give out to people you know or do business with. So here is some great advice you should follow today- If you do not yet have a Google phone number, get one now. After all, it is totally free.
How do Google Phone Numbers work?
Google Phone Numbers work as a forwarding phone number, which is also known as a redirection phone address, or a forwarding number. What does "forwarding phone number" mean? The image below which should give you a good idea how it works.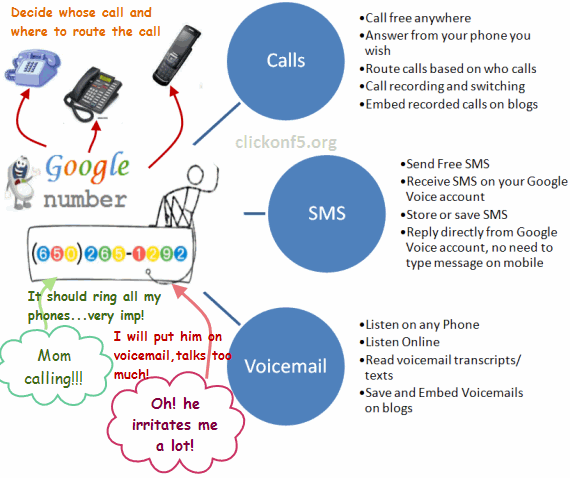 When someone calls you at your Google phone number, Google will receive the call, and "forward" it to your real phone number. What "forwarding" means is, Google will first receive the call on your behalf, and then send the call to your actual cell phone so that you can receive it. In the end result, your cell phone simply rings immediately when someone calls your Google phone number as if that was your own.
Does that mean that I have two phone numbers now?
Yes. You have two phone numbers- one Google Phone Number and your real phone numbers. For free.
What are the benefits of Google Phone Numbers?
The benefits of Google Phone Numbers are many. Having an extra phone number is incredibly useful in many real world situations.
For example, -You will not need to give out your real phone number with strangers - You can rely on your same cell phone plan minutes and texts -No need to buy new SIM card -No need to buy new phone -Get additional features like like free text messaging and voicemail transcription.
How do I get a Google Phone Number?
How do I get a Google Phone Number? In this section, we will provide you with step by step instructions to do getting a Google Phone Number.
Step 1: Download Google Voice
Google Voice is the service that gives you free Google phone numbers. First you need to download the Google Voice app and sign up for a free Google Voice account.
Step 2: Link your real phone number
To make and receive calls with your Google Voice number, you'll need to link at least one phone number. Calls to your Google Voice number will ring any linked number that you choose to forward calls to.
You can link your real phone number to take calls and texts from
On your iOS device (iPhone or iPad) open Google Voice app.
Tap Menu -> Settings.
Look under "Account," tap on Linked numbers.
Tap on New linked number. You can link a maximum of six numbers.
Follow the instructions to link your number.
Step 3: Choose a Google phone number
After signing in to Google Voice, there is a popup at the bottom of the screen to let you "Choose a Google Voice number".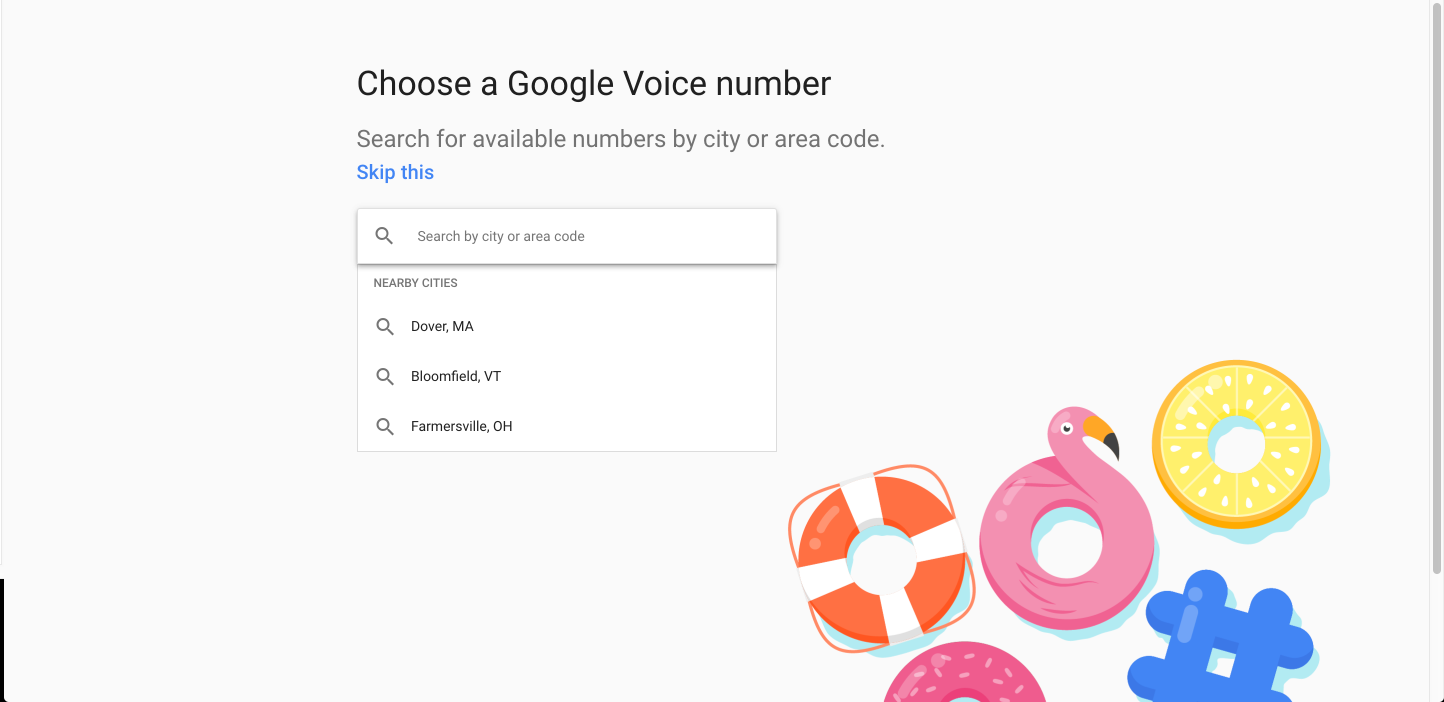 Note: This does not remove the linked number from your Google Voice account.
On your iPhone or iPad, open the Google Voice app .
At the top left, tap Menu  Settings.
Under "Calls," tap Forward calls to linked numbers.
Turn off the number you don't want to forward calls to.
What countries are Google Voice available in?
Google Voice is a US-only service, available only to users located within the 48 contiguous US states.
If you are not located in the US, you need to use a second phone number app like Phoner -  2nd Phone Number.
What are other alternatives to Google phone numbers?
If you need to a new phone number to send and receive texts and phone calls, you may want to use a second phone number app to do that.
Phoner by Appsverse would be again far superior option other than Google Voice.
There are many features that Phoner supports that Google Voice does not have. For example, Google Voice numbers are very limited and in the last week, only numbers  from 3 remote US cities were available. In comparison, Phoner has over 50,000 numbers from over 35 counties and 50 states.
Another area where Phoner is superior to Google is in text and minute usage. Google Voice uses the actual text and minutes from your phone plan. If you do not have any remaining texts and minutes, you are going to be charged unreasonable amounts from your carrier. As a result, many people who use Google Voice end up upgrading their phone plans to something really expensive.
Conclusion: Phoner is a better choice over Google Phone Numbers
Phoner supports calling and texting using credits. You only need to pay for credits when you need them. How do I get a Google Phone Number? We'd say to ditch the Google Number and to use Phoner instead.
How do I get a Google phone number? Try second phone number apps. See Phoner by Appsverse for iOS - available on iPhone and iPad, as well as Phoner for Android.