Etsy is an online marketplace that brings together buyers and sellers from all over the world. It's a great platform for finding unique handmade and vintage items, but like any online platform, it's not immune to negative experiences with other users. If you're experiencing unpleasant interactions with someone on Etsy, blocking them is a useful feature that can help you avoid further interactions with them. In this article, we'll provide a step-by-step guide on how to block someone on Etsy, as well as share what happens when you block someone on Etsy.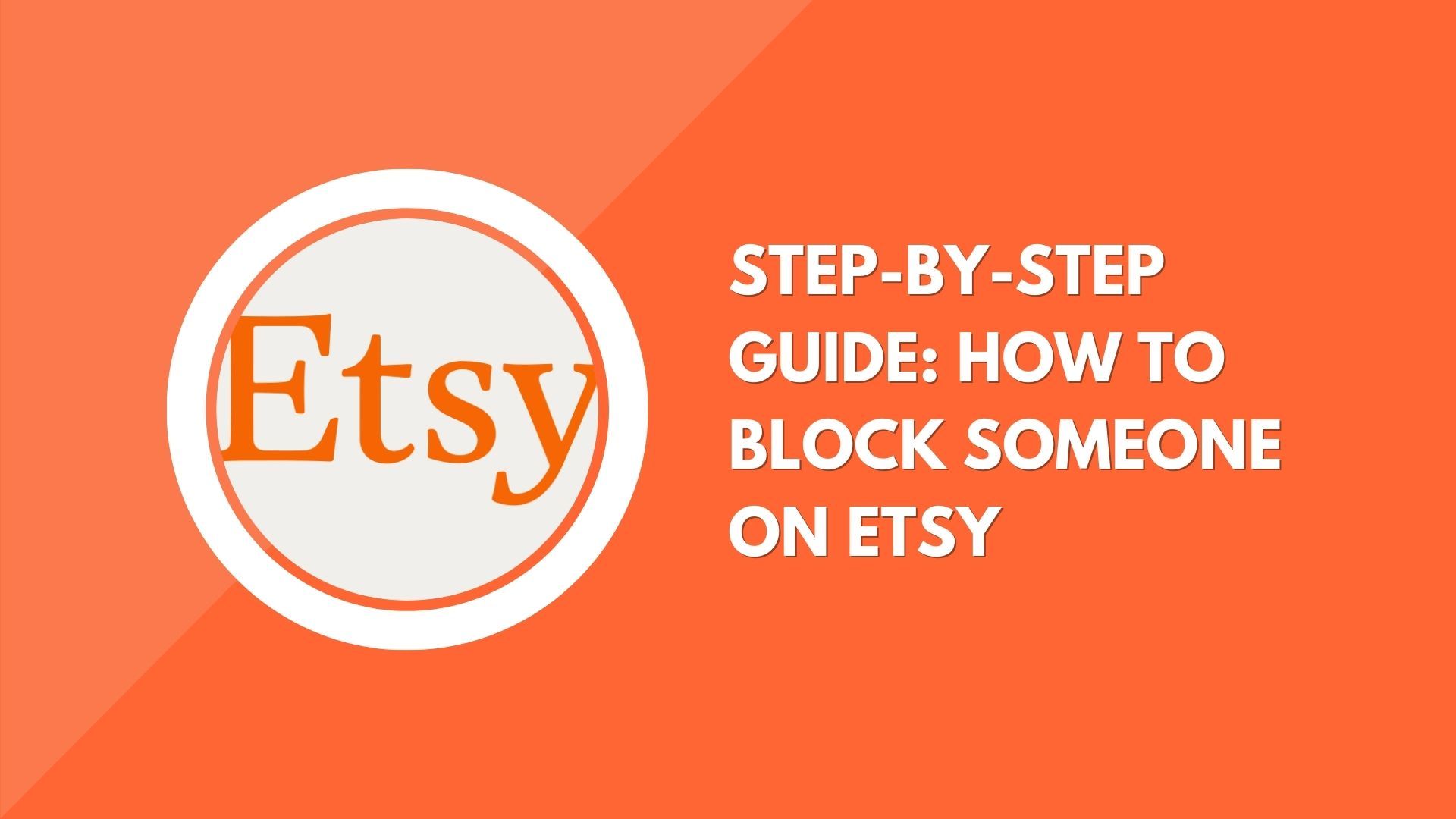 How to block someone on Etsy
Step 1: Log in to Your Etsy Account
The first step to blocking someone on Etsy is to log in to your Etsy account. If you don't have an Etsy account, you'll need to create one before you can block someone. Once you're logged in, you'll need to navigate to your profile settings.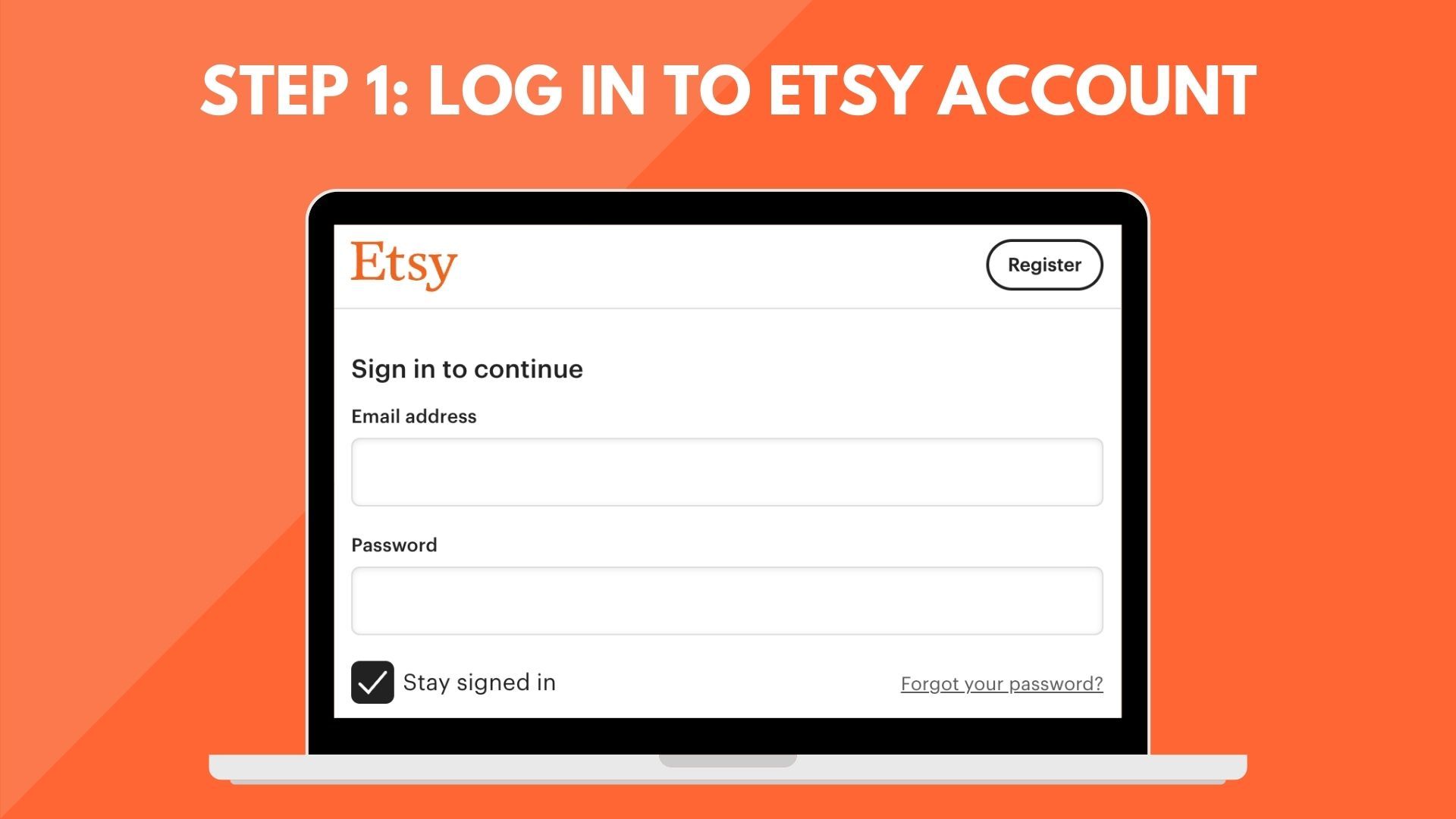 Step 2: Go to the User's Profile Page & Click "Block this person"
Next, get to the user's profile, and scroll to the bottom of the page. Find the "Block this person" button, and click on it.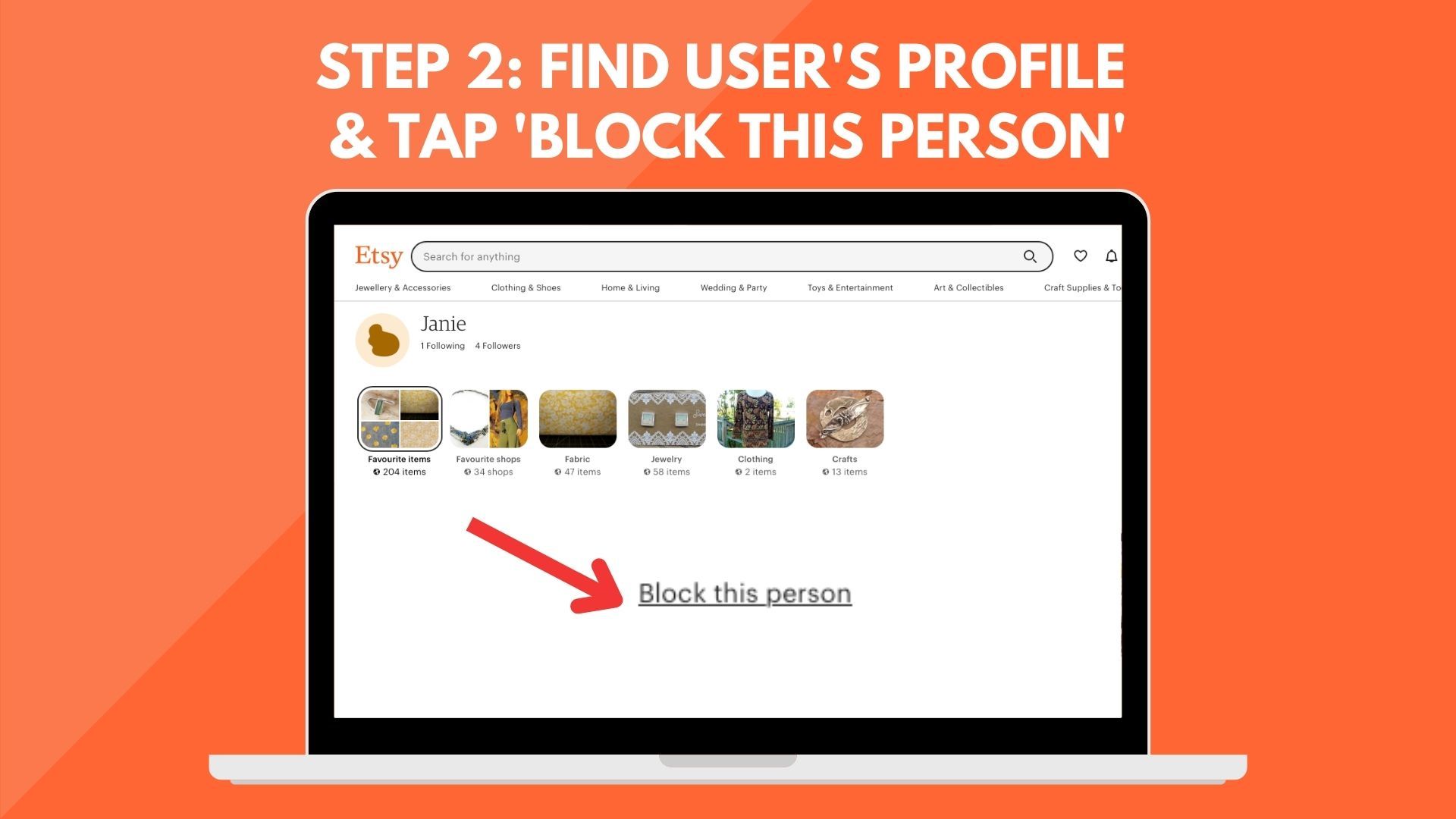 Step 3: Confirm the Block
After you've clicked on "Block," Etsy will ask you to confirm that you want to block the user. If you're sure you want to proceed, click on "Block" again to confirm the block.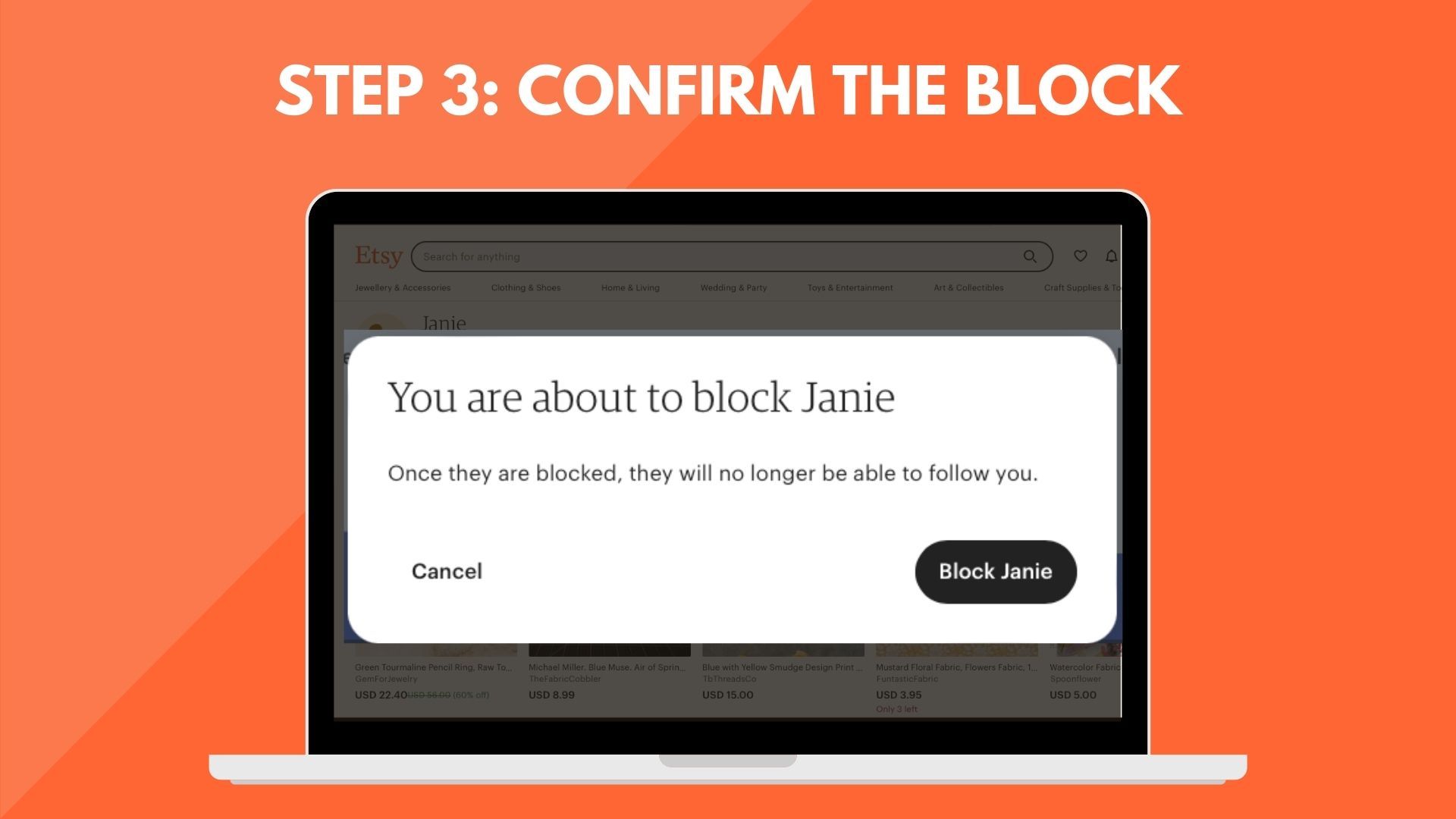 Step 4: Check that the User is Blocked
Once you've confirmed the block, the page should should refresh. If you scroll down to the bottom of the user's profile, you should see the button changed to "Unblock". If you tap on the button, Etsy will ask you to confirm if you would like to unblock the user.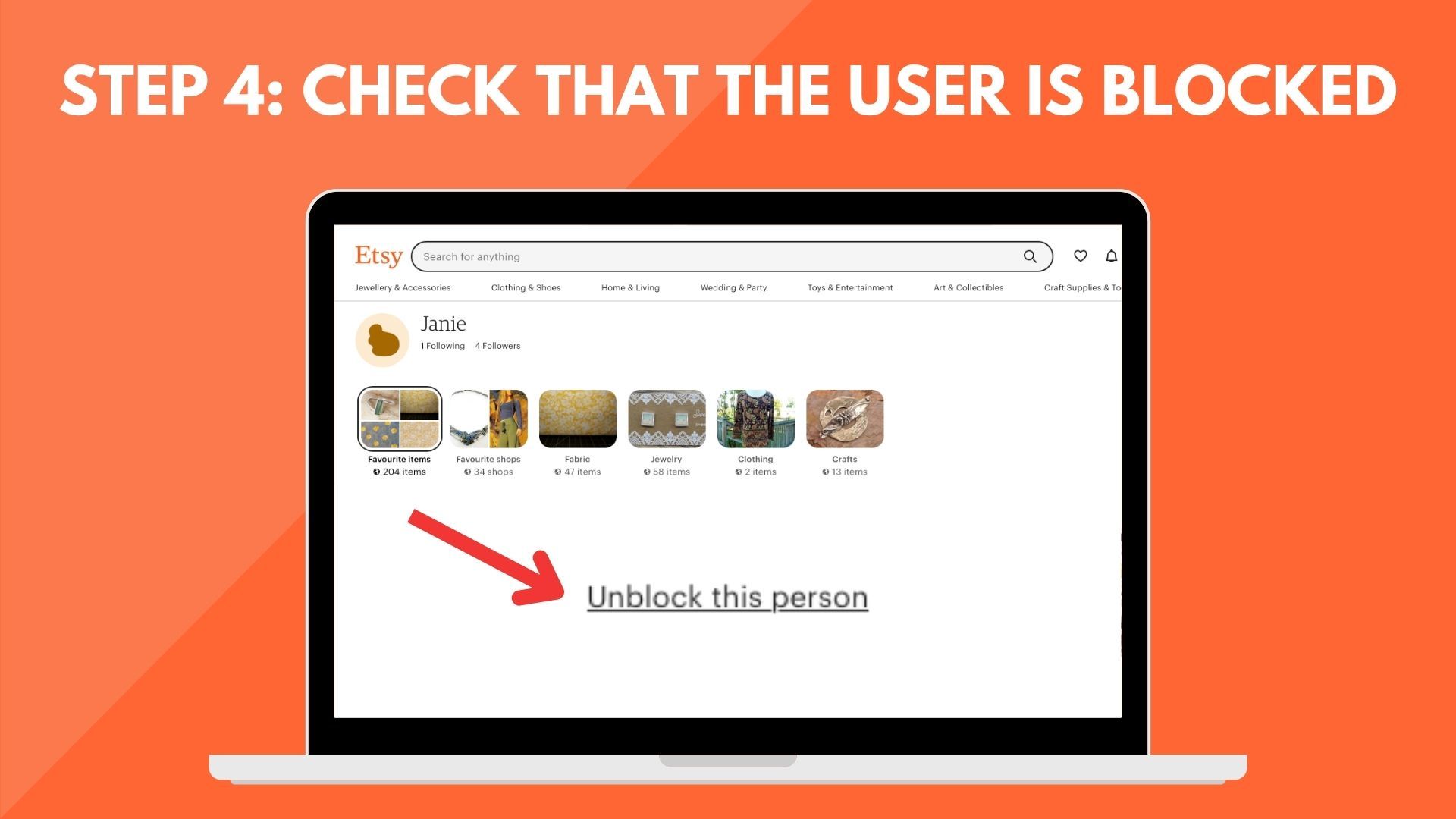 What Happens After You Block Someone on Etsy?
When you block someone on Etsy, they won't be able to perform the following actions:
Follow you on Etsy.
Contact you through Etsy messaging.
See your public profile or shop, or purchase from you.
View your actions in their feed e.g. product announcements, profile activity.
In addition, Etsy will not notify the user when you block them on the platform.
Should you choose to unblock the user in the future, they will need to follow you again to view your profile updates in their feed.
Other actions you can take on Etsy
Making your favourite lists and shops private
However, it's worth noting that they may still be able to see your shop and listings if they're not logged in to their own Etsy account. If you're concerned about this, you can also choose to make your profile and shop private by adjusting your privacy settings.
How to make your favourite lists private
Sign in to Etsy.com.
Click the Favourites icon.
Click on a Favourites List, like Items I Love or a custom list you created.
Click Edit in the upper right corner under your basket icon. Here you can choose Only I can see this list.
How to make your favourite shops private
Go to your Favourites page.
Click the Shops tab.
Click Edit on the right and choose Only I can see my favourite shops.
Mark the User's Messages as Spam
You can report the user's messages to be marked as "Spam". This action removes the messages from your inbox. However, if the user sends new replies, you will continue to receive emails. Etsy recommends to refrain from responding to the user's replies.
To report that a Message is spam:
On Etsy.com, click Your Account.
Click the Messages icon in the menu.
Click the checkbox next to the message that you want to report as spam.
Click More.
Click Mark as Spam.
Report to Etsy Customer Support
In addition to blocking someone, you may also want to report them to Etsy's customer support team if you believe they've violated Etsy's policies. To report a user, you'll need to provide details about the situation and any evidence you have to support your claim.
Etsy has chat, phone and email communication channels, but you'll first need to submit the report to Etsy's customer support team to report the blocked user. Here's how:
Sign in to Etsy.com.
Tap on Contact Support.
Tap on Buying on Etsy (if you are a buyer) or Selling on Etsy (if you are a seller).
Tap on Account access and settings.
Tap on Report harassment or discrimination on Etsy.
Tap on I still need help.
Tap on Email us.
Fill in your request, elaborating on the issue with the user, and adding any evidence of the user violating Etsy's policies.
Etsy typically takes 1-2 days to respond to requests, so be prepared to wait for some time before the team is available to attend to you.
Protecting Your Identity on Etsy
There are many good reasons for keeping a second virtual phone number, such as protecting your personal identity online. Sellers on Etsy are actually required to put your phone number when you purchase from them, so that they can proceed with the shipping process.
After the purchase, the phone number must be shown on the order page. As a buyer, you have to agree to show your phone number if you start the transaction. To safeguard your identity on Etsy, you can consider getting a second phone number, such as one from Phoner app, to manage your communications with sellers on Etsy. This can protect you from any potential harassment while keeping your identity a secret, if you wish.
Conclusion
Blocking someone on Etsy is a useful feature if you're experiencing negative interactions with a particular user. By following these simple steps, you can block a user and avoid further interactions with them. However, you should also take note of the limitations of blocking someone on Etsy, and what happens when you block someone on Etsy. If you're experiencing more serious issues on Etsy, such as harassment or violation of Etsy's policies, it's important to report the user to Etsy's customer support team. Overall, Etsy is a great platform for